Be Aware of the Bear
by M. van Deursen
(Nederland)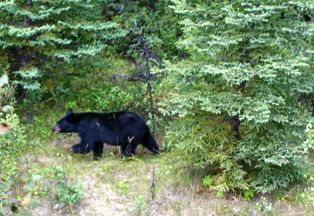 Black bear looking for berries
We visited Canada hoping to spot bears and whales. Thanks to Josette, our tour guide /driver, we did see both. Every participant of the tour group looked intensely through the bus window, scanning the surroundings, afraid to miss a bear. Every dark spot seemed like a bear... Josette was even willing to turn the bus around for a black tree-stump, just to make sure we wouldn't miss anything!
Then, after a couple of days, we did see a black bear from a safe distance. It was a beautiful bear, roaming around and looking for food. Here it eats little berries; there it's feasting on some roots..
I was very excited and wanted to get closer to take even better pictures. Looking backwards, that was a little foolish of me. Fortunately, Josette said we could not get nearer. A bear can easily outrun a person. It is a very agile tree climber as well; a human wouldn't stand a chance. Later I noticed however, that many people react as I initially wanted: when spotting a bear, they park their car on the side of the road, they get out of their vehicle, and approach the bear to take the closest possible picture. Very dangerous!

A bear's life is a hard one: it's constantly on the move, looking for berries or roots to fill its stomach. Bears that eat salmon have a good time during the salmon run though. We've seen this phenomenon in Hyder, Alaska. From a boardwalk, built on the borders of a shallow river, we could watch the salmon spawn and die after that act. In general, the chances are good to spot bears there. They are just wading through the water, catching salmon and feasting on these big fishes.

I noticed that I was inclined to watch the bears through the lens of my camera, instead of observing their natural behaviour. Just observing the bears is much more fun actually. However, you might miss taking some beautiful pictures.

This story is translated from the original Dutch version by Josette.

Original version in Dutch:

We gingen naar Canada om beren en walvissen te spotten. Beiden is goed gelukt, met dank aan Josette, de reisleidster en chauffeuse van de bus.
Het gezelschap bestond uit 13 mensen en Josette.
Gespannen turend door de ramen van het busje om toch vooral geen beer te missen. Elk zwart puntje werd voor een beer aangezien en Josette was elke keer bereid om de bus te keren, want stel je voor dat we iets zouden missen.
En dan zie je hem na een paar dagen. Weliswaar van een afstandje maar toch.
Een prachtige zwarte beer, die zenuwachtig naar voedsel loopt te zoeken. Hier eet hij besjes, daar graaft hij wortels uit. Wat ik opvallend vond was dat ik graag dichterbij wilde komen om mooie foto's te maken. Hoe dom, en gelukkig deed Josette daar niet aan mee. Een beer rent harder dan een mens en kan heel goed in bomen klimmen, je zou geen kans hebben. Nu blijkt het dat meer mensen die neiging hebben. Was er ergens een beer te zien, dan zetten mensen hun auto aan de kant en verlieten ze de auto om een mooie foto te maken. Levensgevaarlijk!

Een beer heeft het hard te halen, hij moet heel veel besjes eten op een dag of wortels uitgraven, wil hij zijn maag vol hebben.
Dan hebben beren die zalm te pakken kunnen krijgen het veel makkelijker. Dat fenomeen zie je bij Hyder, Alaska. Daar hebben ze een boardwalk gebouwd, langs een ondiepe rivier, waar zalmen paaien en daarna sterven. De kans is daar heel groot dat je beren ziet. Gewoon in de ondiepe rivier lopen en af en toe je poot uitslaan om een zalm te pakken en vervolgens te verorberen.
Wat me ook opviel was dat je meer door je camera naar een beer kijkt in plaats van gewoon te observeren. Gewoon observeren is eigenlijk veel leuker, maar ja dan heb je weer geen foto's.