Where to Travel in Canada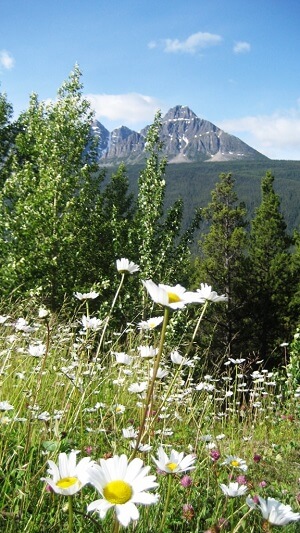 Where to travel in Canada? 
As a tour guide, I love to share my favourite travel destinations in Canada with you.

Here's my TOP 5 on this page:
Backpacking in British Columbia
My favourite road trip in Canada
Whale watching in Johnstone Strait
My favourite hike in Yoho National Park
Wells Gray Provincial Park, British Columbia

Other pages:
Find inspiration for your travel vacation: Itinerary samples and Road trip ideas Canada
Discover a Map of Canada
Where and when to view Northern Lights in Canada
---
Where to travel in Canada # 1: Backpacking in British Columbia

The West Coast Trail 
Not sure where to travel in Canada? My number 1 trip ever, has been the West Coast Trail in British Columbia!

Old growth forest, beaches, creek crossings, ladders, mud, and wildlife such as black bears, sea lions, bald eagles, and humpback whales made this adventurous hiking trail into an unequaled and unforgettable experience.

There are no services along the West Coast Trail. There is one exception:  since 2012 the Ditidaht First Nation offers a new luxury tenting opportunity on their traditional lands at Tsquadra.

The west Coast Trail is located within the Pacific Rim National Park Reserve and therefore maintained by Parks Canada.

This 75 km/47 miles, multi-day wilderness trail takes about 5 to 7 days to complete. You'll need to be fit!


Where to find the West Coast Trail?

The West Coast Trail is located within Pacific Rim National Park on the west coast of Vancouver Island.
Access the trailhead either at Gordon River -5 km north of Port Renfrew-, or at Pachena Bay -5 km south of Bamfield.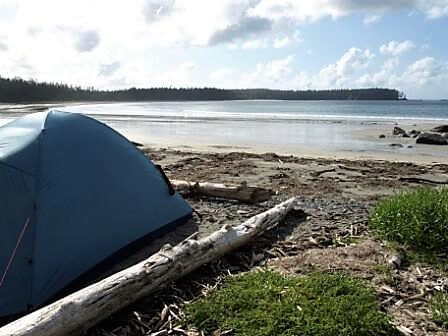 backcountry campsite at beach
Best time of the year to hike the West Coast Trail

July and August (least chance of rain). 
The West Coast Trail is closed from October 1 till April 30.
Reservations

Reservations are needed.
Discover more information regarding West Coast Trail reservations here.
---
Where to travel in Canada #

2: My favourite road trip in Canada



The Icefields Parkway, Alberta


Endless mountain chains, turquoise lakes, seven ice fields, many more glaciers and a good chance of  spotting wildlife such as bears, elk, mountain goat and bighorn sheep make this destination my favourite road trip. 





Check here the Icefields Parkway and other favourite Canadian road trips.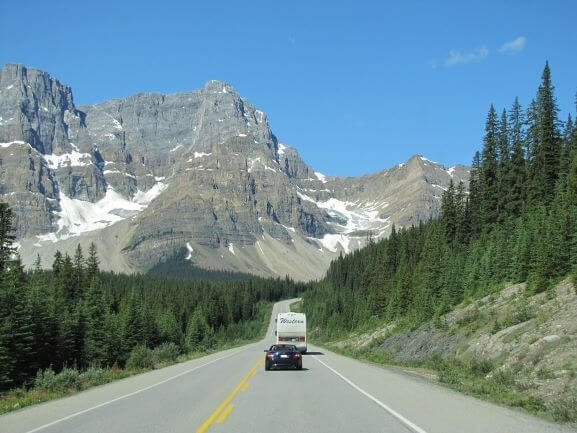 breathtaking scenery along the Icefields Parkway
---
Where to travel in Canada #3: Wildlife viewing in British Columbia

Whale watching in Johnstone Strait
During the summer months, several pods of orcas are feasting on migrating salmon in the rich waters of the Johnstone Strait. 

Other wildlife that live in these waters are:
humpback whales, white sided dolphins, porpoises, Steller sea lions, harbor seals, bald eagles, and several other bird species.

The scenery is great: the Johnstone Strait is surrounded by high mountain peaks and many small forested islands.


Best time of the year to go whale watching in Johnstone Strait

From mid June through October you will see lots of marine wildlife.

Note: Resident orcas follow the Chinook salmon run as this is their primary food source.
The Johnstone Strait is called the 'salmon highway'. Every summer tons of salmon migrate through the Strait to reach the estuaries. From here their journey to the spawning grounds starts. It is hard to predict when the Chinook salmon start their run through the Johnstone Strait. Some summers it is earlier than others. However, August and September will more or less guarantee sightings of orcas.


Several whale watching companies offer guided tours. Reservations are needed. 


Read more about whale watching in British Columbia or whale watching in Canada.

Orca in the Johnstone Strait, British Columbia
---
Where to travel in Canada # 4: Hiking in British Columbia

The Iceline Trail in Yoho National Park
The Iceline trail in Yoho National Park offers astonishing views of the Takakkaw and Laughing Falls.
The Wapta and Waputik  icefields shape this landscape.
 'Yoho' is a Cree expression for 'a place of awe and wonder'. This says it all...
Characteristics

Length:  21 km / 13 miles
Difficulty:  moderate – difficult. Only suitable for intermediate and experienced hikers
Duration:  8 hours
Elevation gain and loss: 700 metre /2300 feet
Trailhead location

27 km West of Lake Louise.
From Hwy 1/Trans Canada Hwy, turn onto Yoho Valley Road (4km east of Field). Follow this road northbound for 16.5 km until you reach the hostel. Park your car at the parking lot.
The trail starts just north of the hostel.
Best time of the year to hike the Iceline Trail

The Yoho Valley Road is open from the end of June until late September.
Therefore, you can only reach the trailhead within this time span.

Check the trail condition report close to your planned hike as the higher elevation of the trail might not always be free of snow.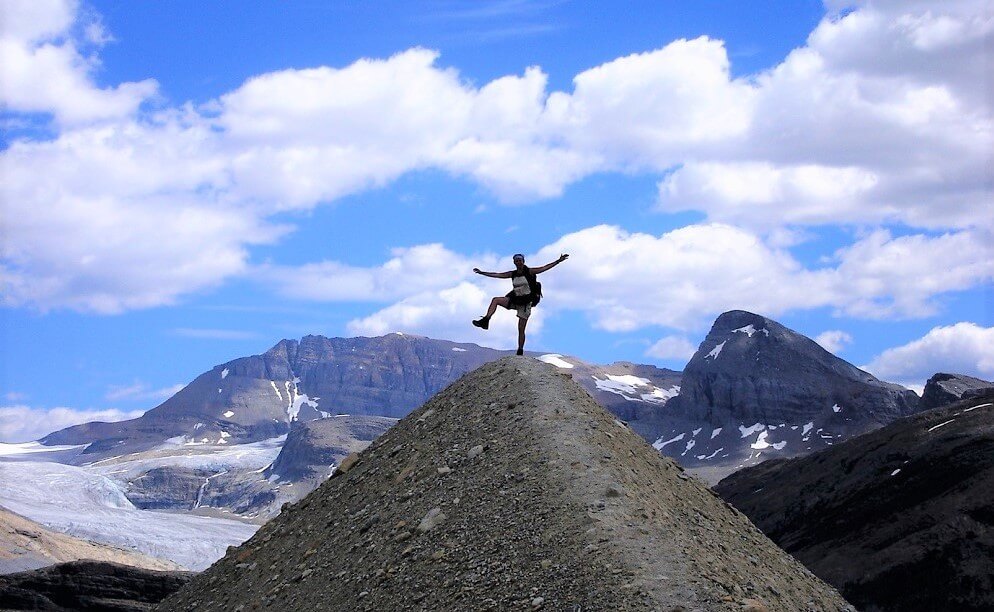 that's me on moraine along the Iceline trail, Yoho N.P.
---
Where to travel in Canada # 5: My favourite Park

Wells Gray Provincial Park, British Columbia
Wells Gray Provincial Park is my favourite provincial park as it offers something for everybody.

Wildlife Lovers will feel their heart beat faster when spotting one of the many black bears, moose or wolves. During late summer there is also salmon viewing.

Waterfall Fans will appreciate the many easily accessible waterfalls of the park.
Helmcken Falls is the highest well accessible waterfall (143 metre/ 470 feet) of the Park.

Adventure Addicts go crazy while rafting, mountain biking, hiking, canoeing, horseback riding, kayaking, fly-fishing, ski touring, snowmobiling, snowshoeing, ice-climbing, and Nordic skiing.

Nature Freaks will adore the ancient volcanoes, beautiful lakes and alpine flower meadows.

Hiking Maniacs will love the network of trails that offer easy walking as well as challenging hiking trips.
Where to stay in Wells Gray Provincial Park

Located inside Wells Gray Provincial Park are several BC Parks campgrounds, which are located back-country as well as front-country. 

A handful of private campgrounds in close proximity of Wells Gray Provincial Park offer plenty of choice whether you travel by RV or when tenting.

Read more about camping in Canada.

Folks looking for more comfort can stay in one of the B&B's, Motels, Lodges, or Hotels close to the park. Check out some of the accommodations around Wells Gray Provincial Park.


Where is Wells Gray Park located?

Turn off Hwy 5 at the Info Centre in Clearwater, BC.
Follow the scenic Clearwater Valley Road northbound for about 30 minutes and you will enter the park.
Best time of the year to visit Wells Gray Provincial Park

May and June for watching Black bears grazing on dandelions and grasses along the Clearwater Valley Road.
Winter is the best season to spot Wolves and/or Moose.
The waterfalls are most spectacular early summer and mid-winter.
Each winter a spectacular ice cone forms at the base of Helmcken Falls.   
Most campgrounds are operating between May 1 and October 1.
Some accommodation is open year-round.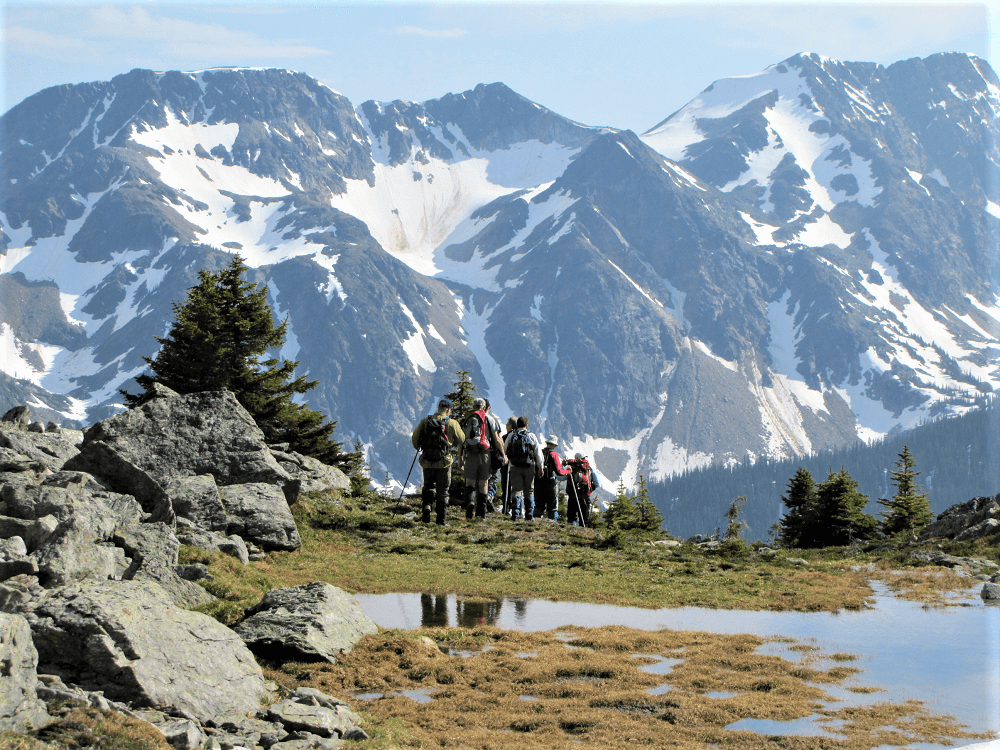 backcountry hiking in Wells Gray Park
---