Road trip planning guide for Canada

---
Travel Seasons
What season to visit Canada? Each season has its charm.

Summer offers definitely the best road conditions.
Planning a road trip during fall will guarantee beautiful fall foliage.
Springtime offers the best chance to see bears eat dandelions on the roadside.

Read more about the best time to travel and the climate in Canada.
---
Driving in Canada
A road trip through Canada involves travelling many miles; nevertheless the driving is very relaxed. 
Just turn on some great road trip music, enjoy a few snacks, and put on your cruise control. ...there you go! 
I have lived in Europe most of my life. Traffic over there is hectic compared to travel in Canada. 
In general, Canadian road users are patient; they tend to keep a safe distance and are pretty easy-going.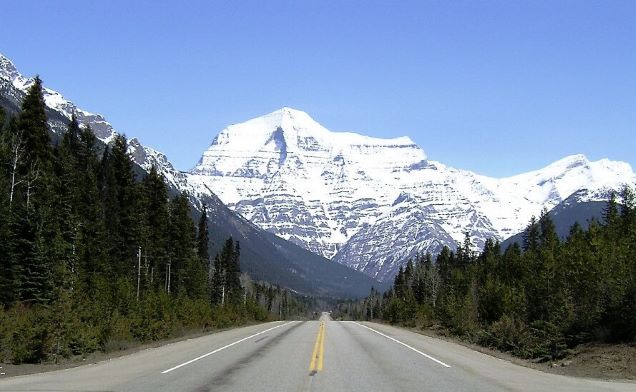 An empty road. We are approaching Mount Robson; the highest mountain of the Rockies
There are plenty of amazingly scenic road trips you can take in all parts of Canada.


Enjoy Cheap Road Trips with my advice on how to save on hotels, food, and gas.

Discover my favourite Canadian Road Trips.

---
Best Road trips
Multiple days:
Unique road trips:

---
Travel Map of Canada

Looking for a travel map of Canada?
Check my map of Canada which includes several scenic road trips to travel in Canada.
---
Cheap Road Trips
Are you looking for helpful suggestions on how to travel low budget like my partner and I did on our last trip? Most money we spent on gas. Nevertheless it worked out to be a cheap road trip.
On average we spent $50,- per person per day, including $20,- p.p. in fuel expenses!
How did we eat and sleep for $30,- p.p. a day?

Read my low budget travel tips.
---
Fuelling Up !

fuel pump
Canadian gas prices are subject to fluctuations. 
What province has the lowest gas price and how can you save on gas expenses? 

This road trip planning guide will help you reduce expenses on fuel.

---
Wildlife
Chances are good you will spot wildlife while driving in Canada.
During our travels through Canada we have seen lots of animals, such as moose, bear, bighorn sheep, and several species of whales.
Whale watching can be combined with an east coast road trip, as well as with a trip through western Canada.

Follow the link for more information about Canadian wildlife.
---
Camping in Canada

Camping in Canada is the ultimate experience when yearning for a feeling of oneness with nature.

Whether you are tenting or travelling by RV, you will have plenty of choice where to go camping in Canada.
Check out the different types of Canadian campgrounds.

Wanna go wild? Check the free campsites in British Columbia or free RV camping.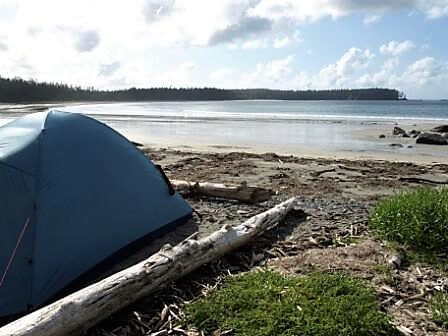 a backcountry campsite along BC coast
---
Travel medical insurance for Canada?

Do foreign visitors need travel medical insurance for Canada?
What you need to know about Medical Care within Canada. What to check when buying Travel Medical Insurance for Canada and travel free from worries.
Visit the page about travel medical insurance for Canada
---
About taxes in Canada

Quoted prices are always net and excluding Federal and Provincial taxes in Canada.
The price you see quoted is not the price you will end up paying.
Federal and provincial sales tax are added at the till.
How much tax you pay depends on the province and the product or service you buy.

For taxes explained per province check the page about taxes in Canada
---
Get Inspired
Enjoy some great Canadian pictures I posted on Pinterest.

My partner and I drove Canada coast to coast - from British Columbia all the way to Nova Scotia.
We were blown away by high mountain peaks and turquoise lakes.
In contrast we've seen flat dry prairies with endless living skies including the northern lights.
We studied the Dominion of Canada by visiting the capitals' parliament buildings.

I hope this road trip planning guide will be helpful to you.

Enjoy your road trip in Canada!

One of the many amazing Canadian sceneries
---