Canadian Wildlife

The abundance of Canadian wildlife is for many people an important draw to visit world's second biggest country.

Wildlife watching is easier when you know when and where to expect animals.
Check the individual pages to learn about the range, diet, and prime habitat of wildlife in Canada.

With a bit of luck, you might spot a few of the 'big 10' species during your travel in Canada.

On this page: 
Bear watching
Whale watching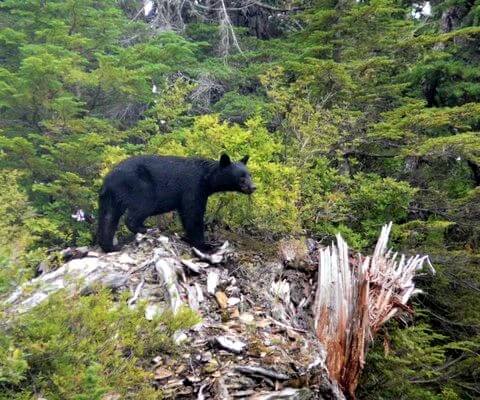 a black bear on the watch! Photo credit by Anke Burgers
---
Bear Watching
Bear watching is often a highlight for many people visiting Canada.
To increase your chances to spot bears, it helps to know what kind of terrain bears prefer. This varies with each season. 

The three different bear species each have their specific habitat. 
Follow the links to find out when and where to see bears.

Bears are extremely powerful wild animals and very unpredictable. Always make sure your encounter with bears is safe.
Review the bear watching etiquette to avoid dangerous confrontations.
Read more about bear watching
a grizzly feasting on salmon
---
Whale Watching

The first time I went whale watching in Canada, we heard orcas communicate.  I had goose bumps and tears in my eyes.  It was so beautiful....

Find out where and when to view these magnificent marine mammals.
a pod of orcas in the Johnstone Strait, BC
---