Climate in Canada

What's the climate in Canada like? There is not one answer to this question as the climate varies per climate zone.
There are roughly 7 different climate zones within the country.  
In general: 
the more North, the colder
the closer to the coast, the milder and more humid
the more inland, the extremer the temperatures (continental climate: hot summers, cold winters)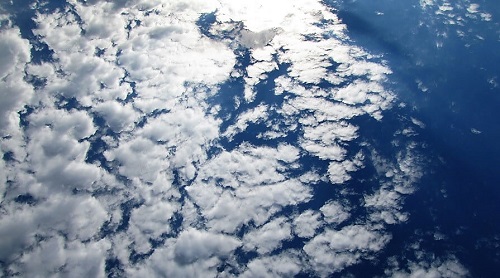 On this page:
The best time to travel in Canada per climate zone
Mean temperatures and precipitation per Canadian destination

Check when to visit Canada to compare pro's and con's per different season
---
The best time to travel in Canada per climate zone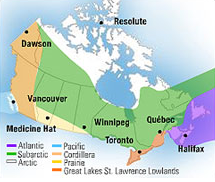 7 climate zones
Atlantic zone (Maritimes eastern Canada)
April till late October
Great Lakes & St Lawrence Lowlands (Toronto, Great Lakes and St Lawrence River) 
June till late September
Subarctic zone (Winnipeg and interior)
July and Augustus
Arctic zone (up North)
July and Augustus
Cordillera climate zone (Yukon and large parts of British Columbia)
late May till late September
Prairies (southern Alberta, Saskatchewan and Manitoba)
June till September
Pacific zone (Vancouver Island and south coast of British Columbia)
July till October
---
The best time to travel per season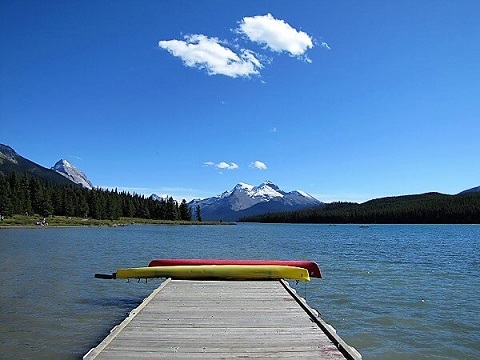 summer in Alberta
As the climate in Canada varies per climate zone, road conditions will vary per season. 
Winter
limit your travel to the specific ski resorts and avoid travel per 2-wheel drive or RV.
Spring, summer and Fall
most roads within the Pacific and Atlantic zone will be fine.
Spring
chances of rain are considerably bigger within the Pacific and Atlantic zone (flooding!). 
Summer
best season to travel in all of Canada. Long days, and comfortable temperatures, even within the Arctic and Subarctic zone.
Fall
Indian Summer. More about the Indian Summer in Canada
---
Mean temperatures and precipitation per Canadian destination

Nothing as unpredictable as the weather, right?  
Nevertheless, by checking  data regarding the past weather conditions in Canada you will gain a better understanding of what type of weather to expect at your time of travel in Canada.
Check monthly climate data online for several locations regarding 
temperatures, and

precipitation
I found some very helpful links provided by the Government of Canada.
As you can see in below examples, precipitation and temperature can vary quite a bit if you are visiting Bamfield on the west-coast of Vancouver Island or Winnipeg in the central Province of Manitoba. Both towns are pretty much on the same latitude.
Open the Government of Canada Climate Data page
Select 'search by Province'
Select a Province and press 'Go'
Click a location of your choice to view its average temperature and precipitation per month
---
Canadian weather forecast

Check your Canadian weather forecast. 
Enter your destination in the local weather forecast Canada headline. View the current local Canadian weather conditions and see what to expect the next couple of days.
---
Study the climate in canada beforehand
My advice? Study the climate in Canada through provided links. Don't let your vacation fall apart due to unexpected Canadian weather conditions. Circumstances you could have foreseen if you would have known...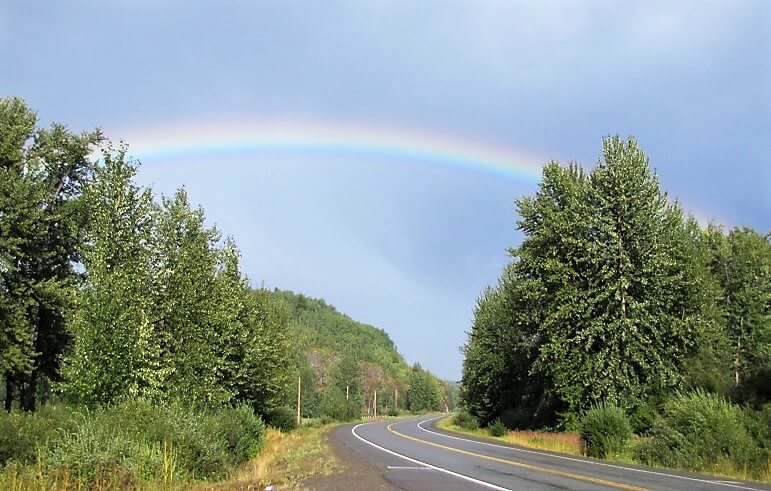 Rainbow Road