Guided hiking trips in Canada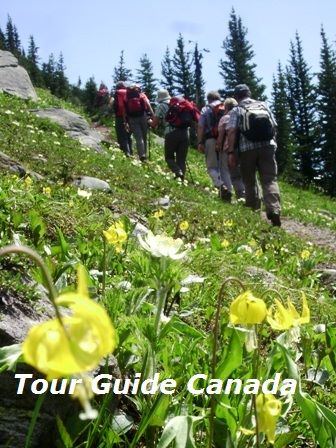 A hiking trip is a sensory experience
When I go hiking, I see the fragile beauty of the glacier lilies in the sub-alpine.
I smell the marijuana like aroma of skunk cabbage along a swampy boardwalk.
I hear the spectacular squeak of the bald eagle and a cry of a loon on a lonely lake. 
I feel the wind in my face and the excitement of hiking through 'bear country'.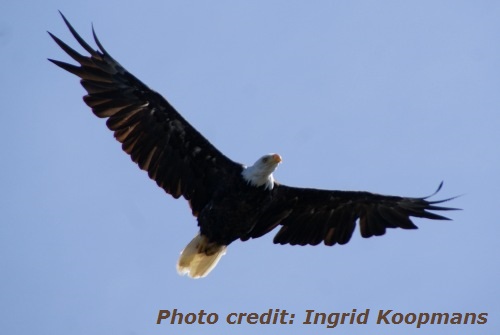 Why join guided hiking trips in Canada?
Safety
A certified hiking guide definitely increases the safety of the trip.
All certified guides are First Aid and CPR qualified.
A guide recognizes potentially dangerous settings and therefore, he/she prevents uncomfortable situations such as a bear or moose confrontation, an approaching thunderstorm, or a possible rockslide.


Knowledge
A professional guide knows the area tip to toe, and will be able to share the natural history of the area with you. 

He/she will show you the 'secret' spots of a specific area, and a guide will try to show you some local wildlife. Realize there are strict federal and provincial guidelines about approaching wildlife.

Convenience
No need to do detailed homework ahead of your hike.

A hiking guide knows the route and is familiar with the weather forecast, the distance, elevation difference of the trail, and services along the route. You just have to wear the proper outfit and enjoy!


Checklist: what to bring on a guided hike

Protection against the elements
Waterproof sunscreen minimum SPF 15

Lip balm with SPF

Sun glasses with neck cord

Cap or hat

Long sleeve shirt

Rain jacket/pants

Breathable clothing

General
Camera

Plenty of water (min.1,5 litre)

Bug repellent

Small towel
Clothing & footwear
Dress in layers: always bring a warm layer even during a warm summer day

Wind breaker

Hiking boots and socks
---
Outfitters offering guided hiking trips in Canada
Guided hikes along the Sunshine Coast, British Columbia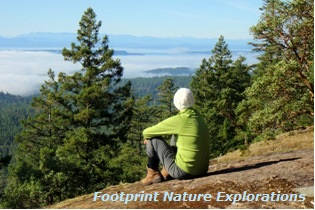 Whether you're up for a lovely day hike or a challenging multi-day trek, you've come to the right place. Footprint Nature Explorations focuses mainly on the plentiful hiking opportunities along the Sunshine Coast.
The Sunshine Coast Trail is a 180-kilometer (110 miles) long hiking trail. This well-maintained trail connects patches of old growth forests, offers some of the region's most astonishing scenery and stretches from Sarah Point to Saltery Bay.
---
guided hikes in the Rocky Mountains
Fresh Adventures are experts at providing top quality guided hiking and walking tours in British Columbia and Alberta. Two expert local guides accompany each tour, taking you off the beaten path and exploring hidden gems in the Canadian Rockies, Coast Mountains and Vancouver Island.
 We recommend them for their guaranteed departures, no single supplements for solo travelers, unique itineraries, gourmet food, award winning guides and incredible service. Let them show you their backyard!
---
Impression of a guided hiking trip
As a tour leader, I've guided hundreds of memorable hikes. What I like best about guiding a hike?  Sharing my –local- knowledge with participants!

Let me share some facts with you. Many out-of-country visitors are not familiar with bears. Since we usually hike through bear-country, it's always interesting to learn about these magnificent animals.

Did you know?
Female bears have a 'delayed implantation'.
Bears mate early summer. However, development of the fertilized eggs only starts late Fall, once the fertilized eggs implant in the uterine wall. Usually 2-4 cubs are born mid-winter, during hibernation.
Not all impregnated sows do develop the fertilized eggs into embryos. Fertilized eggs in malnourished sows do not develop. Only sows that have been able to store enough fat to survive hibernation WHILE nursing cubs will get pregnant. The delayed implantation is a great example of Darwin's "Survival of the fittest" theory. Only strong and healthy organisms - which are best fitted to survive- reproduce.


A grizzly cub weighs at birth about
1 pound and is about 9 in. /23 cm long, and
1/300 – 1/500 of the mother's weight. Compare this with a human baby who weighs 1/15 of its mother!


You can't outrun a bear?
Lean bears can run up to 30 miles/ 50 km per hour and they are good swimmers. Learn how to prevent potentially dangerous bear confrontation.


A knowledgeable guide will share these and many more interesting facts on a guided hike.
      

Short impression of guided hiking trips

A co-production by Hen de Grood and Tour Guide Canada
---