Kayak vacations in Canada

Looking for an eco-friendly weekend getaway or for an active adventure trip of a lifetime?
Guided kayak vacations in Canada offer the most beautiful and pristine wilderness experience you can imagine. Whether you are a veteran or a first time paddler, kayaking is the most exciting and environmental friendly way to explore Canada's waters, to see wildlife without disturbance, and to get closer to nature.


Marine wildlife
Sea kayaking in Canada's coastal waters offers some great opportunity to see marine wildlife.
You might spot whales, dolphins, coastal bears, seals, sea lions, sea otters, starfish, sea anemones and/or bald eagles on your unforgettable kayaking adventure.

As most species don't feel threatened by a kayak, it's a safe and thrilling way to get close to Canada's marine world.

Plankton
Canada's Pacific AND Atlantic waters are rich in phytoplankton and zooplankton. Many species feed on this food source, even huge baleen whales.  
Phytoplankton is the first link (the producer) in the marine food chain. All marine species rely directly or indirectly on phytoplankton.  Due to the local Pacific and Atlantic currents, plankton is abundant in Canada's coastal waters.  Hence, both Pacific as Atlantic Ocean are rich in wildlife such as:
Toothed whales: dolphin species like Orca, Beluga, and Porpoise 

Baleen whales  like Humpback whales, Grey whales and Pilot whales.  Discover more Canadian whale species

Seals

Sea lions

Marine birds like Bald Eagle

Sea anemones and Starfish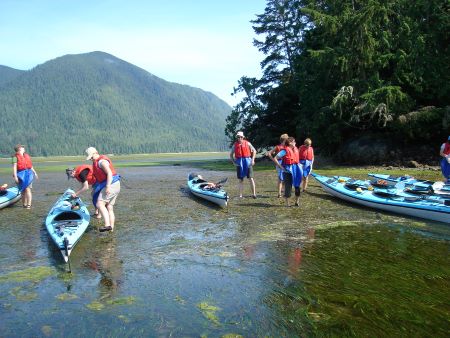 Sea kayaking is the most exciting and environmental friendly way to enjoy coastal waters, and to see marine wildlife without disturbance.
---
Why join guided kayak trips?
Safety
A certified kayak guide will definitely increase the safety of the trip.

All certified guides are Wilderness First Aid and CPR qualified.
A guide recognizes potentially dangerous settings and therefore, he/she prevents uncomfortable situations.
 A certified guide masters rescue techniques.

Knowledge
A guide knows the area tip to toe, and will be able to share the natural history of the area with you. 

A kayak guide will show you the 'secret' spots for wildlife viewing. Realize there are strict federal and provincial guidelines about approaching marine wildlife.

Instruction
A kayak guide will instruct you on basic sea kayak techniques.

Convenience
No need to do detailed homework ahead of your kayak adventure. The kayak guide knows the waterways, gems to have a break, and is up to date with the weather forecast. You just have to enjoy yourself!
---
What to bring along on a kayak vacation in Canada
Protection against the elements
    Waterproof sunscreen minimum SPF 15, preferably SPF 60
    Lip balm with SPF
    Sun glasses with neck cord
    Cap or hat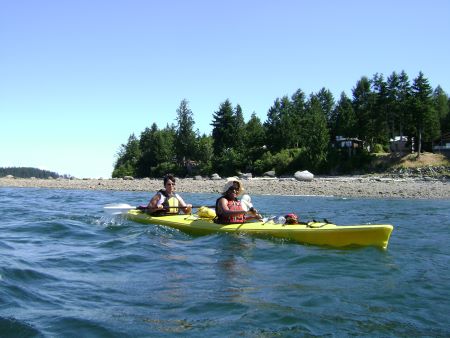 sea kayaking around Quadra Island, BC
General
    Camera
    Plenty of water
    Bug repellent
    Small towel

Clothing & footwear
    Dress in fast drying layers
    Long sleeve shirt
    Wind breaker
    Rain jacket
    Sandals or neoprene wet-suit boots

Check ahead if the kayak outfitter provides the following (if not, bring this yourself)
   Paddling gloves (neoprene or lycra with extra grip)
   Waterproof bag for your valuables + camera
   Sleeping bag and (self-inflatable) mattress

Provided by kayak outfitter
   Kayak and paddles
   Life vest
   First Aid kit
---
Outfitters offering kayak vacations in Canada
Sea kayaking in British Columbia
Kayaking the Sunshine Coast with Footprint Nature Explorations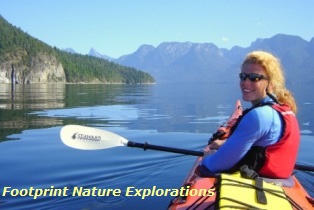 'A fabulous way to experience the world around us'. This is how kayakers describe this tranquil way of recreational transport on our coastal waters.
Quite often we will be followed by nosey seals, playful river otters and sometimes even by an impressive sea lion. With a bit of luck we occasionally spot porpoises, dolphins or even a pod of killer whales. Sea Kayaking is also a 'fun-tastic' way to explore two of British Columbia's world class kayak destinations, Desolation Sound and the Copeland Islands. Previous kayaking experience is not necessary.
Visit Footprint Nature Explorations' website

---
Kayaking Vancouver Island: Ecosummer Expeditions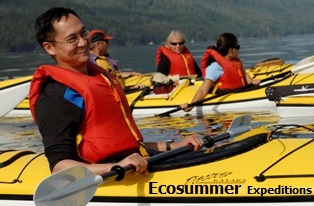 Awaken to the song of the Humpback whale.
Fall asleep beneath the hushed canopy of a temperate rainforest.
Fill your days with whale watching and, kayaking with Orcas.
Tune in to the rhythm of the tides.
Escape the hubbub of your everyday world.
Restore life's equilibrium from the seat of a kayak.
---
Sea kayaking along Canada's coast will be one of the highlights during your travel in Canada!
---