Road Trip Ontario and Quebec
The road trip Ontario and Quebec is a drive into Canadian history and nature.

Characteristics Road trip Ontario and Quebec
Distance: 3100 km / 1925 miles
Duration: 21 days
Best time of year: August (less bugs) to first weekend of October
How to travel: car or RV
Accommodation: camping
Camping trip
The itinerary is designed as a camping trip, either by RV or tenting.
Most campgrounds are Provincial or National Parks, very spacious with lots of privacy and fire-rings, located in natural settings. 
On this page:
The best from Ontario and Quebec
E-road book Ontario and Quebec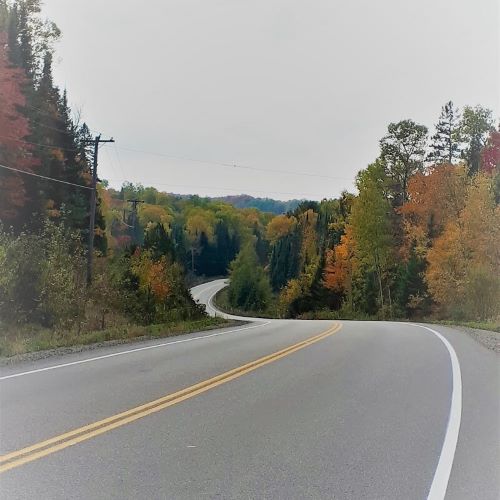 early Fall in South Algonquin Park
---
The best from Ontario and Quebec
The E-roadbook 'Road Trip Ontario and Quebec' simply includes the best from Ontario and Quebec.
Numerous National Historic Sites, Provincial and National Parks, waterfalls and even more waterways are to explore along this road trip. 

Alternate driving days with outdoor experiences such as canoeing, cycling, hiking, rafting, fishing, and wildlife watching. Even whale-, and bear watching is included in this itinerary!
Add an optional visit to Niagara Falls from Toronto at the beginning or ending of your trip.
---
Route Ontario and Quebec
You'll start this circle road trip from Toronto.
Continue along Lake Ontario's northern shoreline into the 1000-Islands National Park.
Follow the Rideau Heritage Route and step back into the early days while traveling along Upper Canada area.
Explore the beautiful cycling trails of Quebec and the historic Kings Road towards old Quebec City. If you've ever wanted to visit France, this will be your closest call.
Continue along the Saint Lawrence River, home to several whale species such as the Beluga.
Join a whale watch tour and an excursion to a Native site and black-bear watching. Beaver- and moose watching can be included around La Mauricie National Park.
Make sure to visit Parliament Hill in Capital city Ottawa and taste the famous Beaver Tails before continuing your road trip to Algonquin Park.
Enjoy Algonquin's outdoors before heading back to Toronto.
---
E-Road Book Ontario and Quebec
The interactive E-Road Book Ontario and Quebec is a PDF-file containing 21 travel days. Your trip starts and ends in Toronto, Ontario.
You can easily split your travel into 2 vacations of each 10-12 days:

1-round trip Ontario, starting and ending in Toronto or Montreal

2-round trip Quebec, starting and ending in Montreal or Quebec City
An amazing road trip
I personally designed and drove the entire road trip through Ontario and Quebec during Fall 2018. Made adjustments where needed, visited all campgrounds and experienced all selected activities.
The result of my work is this roadbook; an amazing road trip in which travel days are interspersed with sightseeing and outdoor activities. 
---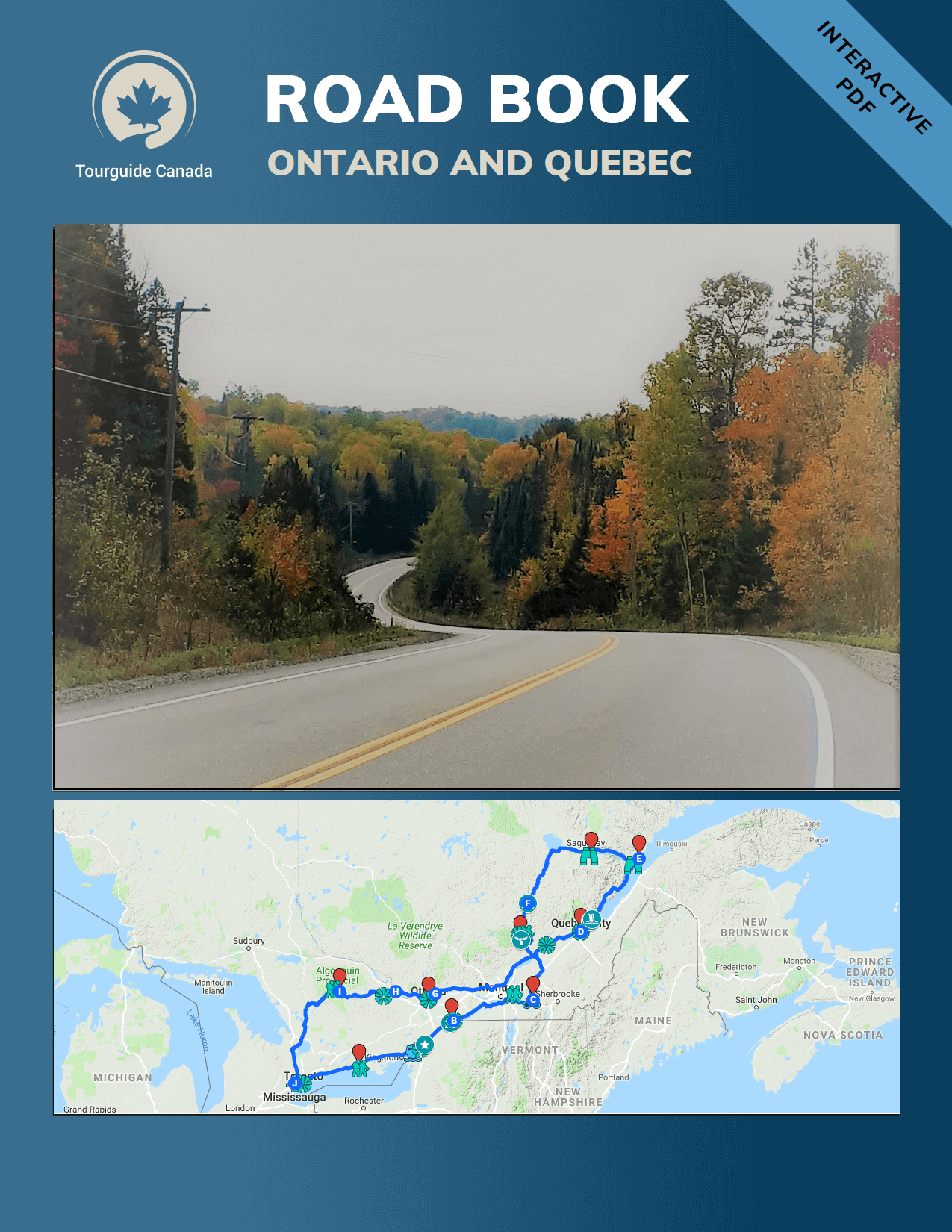 ---
Reviews 
Road Book Ontario and Quebec Reviews
Did you buy the Road Book Ontario and Quebec? Share your review!

---
Rental equipment
RV rental
Rent your RV at Motor Home Travel 
Motor Home Travel offers:
Luxury vehicles and late models 

Econo units at a 10 percent discount for an older fleet for the value conscious traveller

Free pick up and drop off at the Toronto airport area hotels and the airport for a minimum of 7 days bookings

Direct response to customers needs when in trouble via e mail or phone

100 motor homes that are luxury packaged out with side cameras back cameras and awnings etc.

Insurance for only 15.00 per day

Open 7 days a week in the summer
---
Rent your camping gear
When handing in the coupon within the roadbook, you will receive 15% discount on your rental camping gear at Exclusive Sport Rentals
---