Camping Etiquette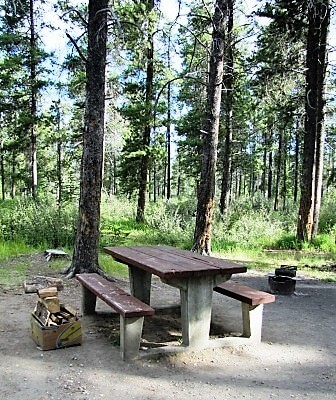 a clean campsite
Minimize your impact
Please stay on trails and do not bushwhack. Protect the surrounding ecosystem.

Buy local firewood. Prevent the spread of foreign bugs and diseases.
Do not collect wood from the forest floor or from surrounding trees.

Use designated campsites; camp on durable surface.

Use provided fire rings and respect any fire bans.
Park in designated areas.


Take only pictures, leave only footprints.

Burn garbage only when it will not leave a trace.
Do not empty your holding tank and do not drop garbage in the outhouse. Only human waste is supposed to go down. Please nothing else, as anything that goes down is very hard to get out.

Please do not take anything from nature. All is naturally connected and taking away a link will influence other organisms and species.  
Take out what you pack in!
When you leave a site, it should be in the same condition as when you arrived. 
Never leave stuff behind unless you can dump it in provided garbage bins. This includes biodegradable scraps such as fruit peelings as they will likely not decompose before the next group of campers uses the site.
Clean up after your pet

---
Stay safe from predators

You want to stay safe, right!?  You are in bear country when camping in Canada!
Obey camping etiquette to keep bears and other predators out of Canadian campgrounds.

Your food, cooking equipment and toiletries must be stored in a bear cache or inside your vehicle.
Clean your cooking area thoroughly.

Never bring anything that smells inside your tent.  
Don't leave personal property unattended.


Review the bear watching etiquette to avoid dangerous confrontations with bears.

be bear aware
---
Fresh water
Furthermore you wish to stay healthy, right!?
Fresh water is the most important drinking-water source on earth.
Please do not pollute any creek, lake or other fresh water source.
Always use biodegradable soap.
Dispose grey water 60 metres/200 feet away from any water source.

---
Campfires
Keep your campfires small and in the rings provided.

Only light a campfires when winds are absent or mild.

Do not cut trees or remove wood from the site.

Always attend your campfires.

Extinguish any fire before going to bed or when leaving the site.

---
Respect other campers
Most people who travel Canada yearn for peace and quietness at campgrounds.
Minimize noise and respect quiet hours at the campground.
Minimize running any generator. 
Keep your pets quiet and under control at all times.
Keep roads clear; do not block traffic



Practising good camping manners will bring long-lasting enjoyable campsites for happy campers!
---