Free RV Camping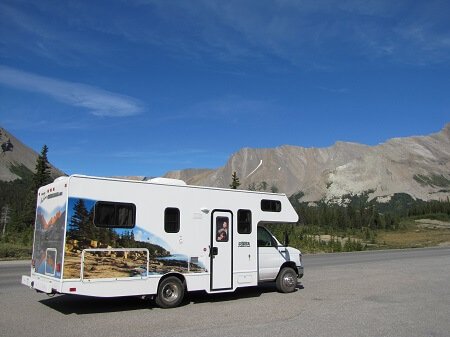 travelling by RV offers lots of freedom
It is expensive to drive a RV.  Free RV camping will bring your costs down a bit.

On this page you will find:
RV Resorts
There are plenty of RV resorts all over Canada. They offer full hook-ups (water and electricity), as well as grey water and sewage (black water) disposal. However, will you need these appliances on a daily base? 

On average, campgrounds in Canada will charge $40-$50,- a night for a full RV hook-up.  It is easy to save some money by using free camping sites.

Although RV Resorts offer comfort and company, 'going wild' is another great experience during your travel in Canada.
---
Free RV camping can be found at:

Rest areas and Truck Stops
Parking lots at shopping malls or supermarkets (unless otherwise posted)
Recreation Sites
Check the page 'free campsites' to locate recreation sites within British Columbia. 

My other half and I have always found the 'Backroads Mapbooks' very helpful.
Recreation sites are well marked on the maps, which you buy for less than a night at a RV resort. We would otherwise never have found some of the most beautifully located, free spots for camping in Canada.

I searched the internet and found out the company also sells GPS Maps for the ones who prefer a GPS to a map book.
Note: Check your RV insurance policy for coverage on back roads.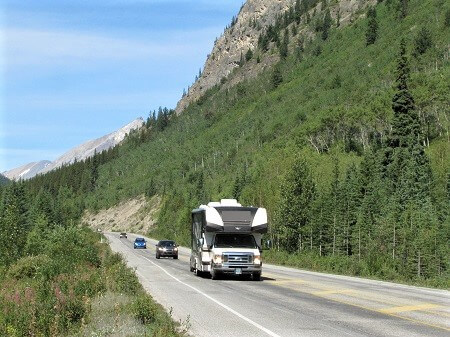 RV along the Icefields Parkway

Other free RV camping
Signs posted at truck stops and rest areas throughout Canada will tell you for how many hours you can park. Most rest areas and truck stops have picnic tables and washrooms.

Parking lots at shopping malls or supermarkets are often cam secured. Please check the signs at the specific parking lot to find out whether overnight parking is allowed.
Safety rules for free camping in Canada
Park with others and get to know them a bit
If a free RV camp site is littered with empty and broken beer bottles, move on
Leave no food or smelly cooking equipment outside: mind the bear watching etiquette: you're in bear country!
Check with your rental company agreement if there are any places you cannot take the RV
Camping Etiquette

Please reduce your impact on the natural environment and honour camping etiquette in Canada.
Check the camping in Canada etiquette
---
RV facts

RV water supply and disposal
All RVs contain a 20-40 gallon (75-150 litre) fresh water tank.

Furthermore, they carry a grey water tank as well as a black water tank, both with a minimum capacity of 16 gallons / 60 litres. Enough to keep you going for a while...

No daily need to plug in at RV resorts.
RV power sources; can you do without them?
(Yes, you can!)
The air conditioning, power outlets, and microwave require full electrical power.

As a result, you will not be able to use them outside RV resorts unless the generator is running.
While roughing it in the bush, you do not want to run the generator! 
Use the BBQ instead and sit outside. That is what it is about! The night sky is too beautiful to spend the evening indoors. Have you ever seen so many (shooting) stars or even the Northern Lights?

Without power these appliances will work:
Interior lights (powered by the auxiliary battery)
Refrigerator (powered by the auxiliary battery and propane)
Cook top burners (run on propane)