Dog Sledding Vacations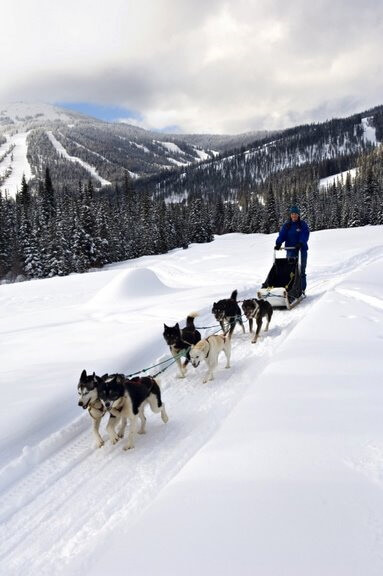 Taking out a small dog team at SunPeaks Resort, BC
---
Hands-on experience
Realize dog sledding vacations offer a hands-on experience.  You have to harness dogs, lead them to the sled and snap them to lines.
These actions have to go fast, as sled dogs seldom stay put and wait. They want to go, while you plough through a foot of snow to harness another dog. Their jumping and barking can be intimidating.

On the other hand, when joining a guided tour, you won't be on your own. The tour guide will give you a hand when needed.
Your physical shape
To enjoy dog sledding vacations you have to be in reasonable to good physical shape. Not only to prepare the dog team (as described above), but also once out in the bush.

As terrain is seldom flat, the dogs expect you to help them out when going uphill. You will have to step with one of your feet, or you might even need to get both feet off the runners to take your weight off the sled.  To keep momentum you have to walk or run besides the sled until you're on top of the hill.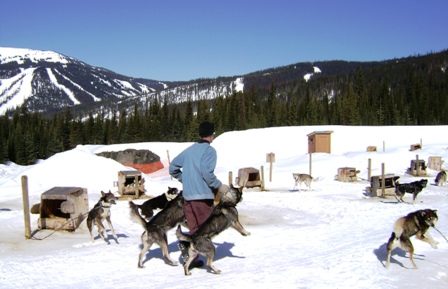 picking the dogs for a run
---
Basic dog sledding information and techniques
Never, ever, let go of the sled! All the rest you'll learn out there.
If you let go of the sled, no one is in control of speed and direction, and the dogs can get injured. An abandoned dog team will not stop by itself.
You, on the other hand, won't get injured from holding on to the sled, even if the sled has tipped over. 
A capsized sled, with you holding on to it, is too heavy to drag for the dogs. They will stop in an instant as long as you hold on. Once the dogs stop pulling, you can get back on your feet again. 
---
First time on dog sledding vacations?

If you're a rookie, it will be beneficial to first try it out before you book a dogsled expedition or a multiple day tour.

Several outfitters offer half-or full day dogsled experiences. You receive instructions how to mush yourself, followed by a trip. Experienced guides always accompany these runs.  When it's your first time on a sled, the most mellow dogs are chosen. The trail will be 'broken' and the dogs just follow the track.

Some outfitters offer summer runs by using carts instead of sleds.
---
Dog sledding gear
Dog sledding gear supplied by the outfitter: harnesses, sled and lines.

Your personal outfit:
thin gloves -for snapping the dogs to the lines,

warm mittens -to go over the thin gloves,

a toque,

scarf,

wool socks,

warm boots (up to -100 F or -40 ˚C) with removable liners,

sunglasses,

headlamp.

Dress yourself in layers, such as
breathable thermal underwear,

fleece sweater,

fleece pants,

water resistant, windproof and breathable hooded winter jacket,

water resistant pants (preferable breathable).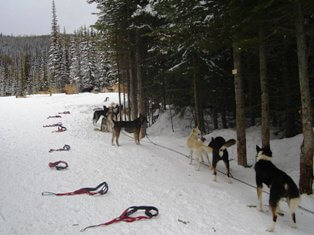 The dogs are waiting to get harnessed. Each dog has a specific size harness that fits best.
---
Dog sledding terminology
Sled bag: the covered part of your sled. Within the sled bag you can take along gear or a passenger.

Drag line: the line to secure the sled to a tree, while you harness the dog team.  When you're ready to go, you pull the drag lines' slip knot. You're on your way now while the line is dragging behind the sled. Use the drag line to secure the sled to a tree when having a break or grab it and hold on to it in case you did let go of the handlebar ;-)

Gang line: the main line.  All dogs are hooked up to the gang line.

Handlebar: the part of the sled you hold on to and never –ever- let go off!

Harness: worn by a dog. They come in different sizes. It's important the harness fits a dog well.

Hook:  to anchor the sled when you stop.

Neck line:  a short line between the dog's collar and the gang line. The neckline keeps a dog 'in line'.

Pad: a device for slowing down the dog team.

Runners: the part of the sled you stand on. A sled has 2 runners.

Tug line or tail line: line to connect the harness to the gang line. The tug line should always be tight. When it's slack the dog doesn't pull or the sled is going faster than a dog can handle. Always keep an eye on the dogs' tug lines. Slow down if necessary.

several lines keep the dogs in-line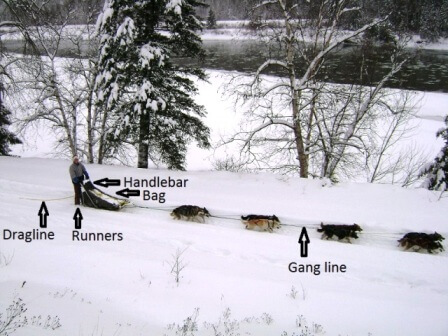 Some basic terms: bag-handlebar-runners- dragline-gangline
---
Position of dogs

Lead:  the first -usually 2- dogs. Lead dogs must be intelligent and obey commands.

Swing:  the dogs – usually 2- immediately behind the lead dogs. Swing dogs help turning.

Team: the dogs in between swing and wheel. On a short trip and with little weight to carry, team dogs can be left out. For long distances races there are up to five pairs of team dogs (10 individual team dogs), which makes a unit of 16 dogs. Imagine the power of this squad!

Wheel: the last -usually 2- dogs. Wheel dogs are the ones that steer the sled. They have to be the most honest working dogs, the ones that always keep tight line. 
A standard dogsled team, used for dog sledding vacations, counts six to eight dogs in total.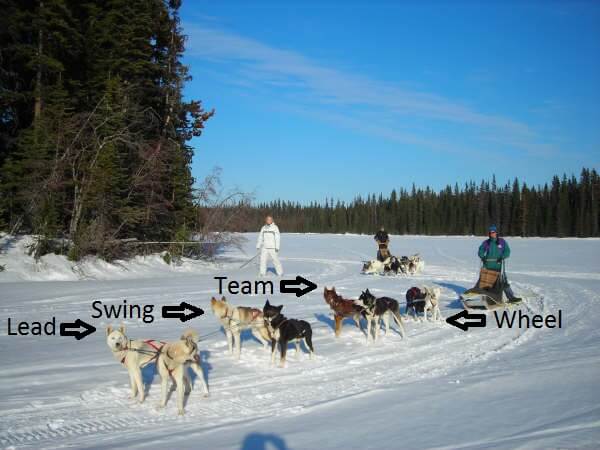 Lead dogs must be intelligent and obey commands. Swing dogs help turning. Wheel dogs pull the most weight; they must be strong dogs.
My story
I would like to share my dog sledding experiences with you. In 2006, I followed a 3-month, full time training to become a dog sledding guide. Based upon movies such as 'Eight Below' I was sure I would love dog sledding. However, I had never been on a sled before. It worked out as a very challenging episode in my life...

From the start, I was overwhelmed by the power and noise of the dogs. They were all jumping and barking at their spots, hoping to be picked for running. That alone intimidated me.

Next step was harnessing the dogs. I had to squeeze a highly excited dog in between my knees while putting the harness on. It was hard, belief me! Once a dog was harnessed, I snapped the dog to the gang line, where it had to wait until I was ready with the rest of the team. Oh my gosh, these dogs are so eager to go! As I wasn't fast enough, dogs were bursting with impatience and some managed to chew their harness or neck line.
As dogs are highly sensitive animals, they felt my anxiety while out on the sled. It seemed the dogs were laughing at me; they didn't obey any of my commands, and I was not at all in control of the dog team.
I could yell 'stop, stop' at them, but they just ignored me and dragged me around, where ever they liked to go. I seriously considered quitting this dogsled adventure, as I was afraid and intimidated.

I mentioned my feelings to my trainer. He said it was all in between my ears. As long as I would feel insecure, the dogs would just play tricks with me. They were testing me. Once I could tell myself I was in control and not the dogs, the team would respect me and accept me as their leader. I tried this by using affirmations and it worked! I told myself  'I can do this, I'm in charge'. Since then I was improving and in control. The dogs finally accepted me as their Alpha female!

In the end, it was a great experience. I love the dogs and the sport.
I did work as a dog sledding guide for three seasons.
Why do I tell you my story? 
Take a good look at yourself before booking any dog sledding vacations or expeditions.

Ask yourself, am I a natural leader or a follower? If you're the latter, are you able to change your mindset into being the leader for a dog team?
If you're not sure, start with a -half- day trip to see how you feel. 
Don't buy any dog sledding gear before you know how it's like to be a musher.

On the other hand, once you get the hang of dog sledding, you probable become addicted to it!

---
Goosebumps
---