Train Travel in Canada

Step aboard, and enjoy train travel in Canada. It's exciting, and it's comfortable.
Whether you live in Canada or are visiting the country, travelling by train is always a fun experience.
---

Why travel by train in Canada?
Unlike driving, train travel lets you sit back, relax, and enjoy looking at the scenery. Some trains – especially those that travel though the Rocky Mountains – have glass-domed carriages, known as "skyline cars," to let you appreciate the view. 


The cross-Canada train offers every comfort: sleeper cars (some with private washrooms), dining cars that offer excellent food and wine, and spacious seats with electrical outlets.


Some of the newer trains provide Wi-Fi, allowing you share your travel experiences online. 


Taking the train, instead of flying or driving, results in a lower carbon footprint.


Train travel lets you appreciate Canadian geography and history, up close.
---
Train tours in Canada

There's no better way to appreciate the diversity of Canadian scenery than by viewing it from a train window.

When a country is as big as Canada, driving across it can take several days, which can be an ordeal; and flying across it means you miss seeing the sights.The train is the perfect compromise.
Long-distance train tours

Train companies that provide tours and long-distance train travel in Canada:

Short-distance train travel in Canada

Within Canada's most densely populated areas, there are extensive local commuting networks.
In Eastern Canada, rapid intercity service is provided by Via Rail.
And away across the country, in the Greater Vancouver area of British Columbia, TransLink gets you everywhere you want to go in Metro Vancouver.

---
The train: a vital part of Canada's history

Much of this country was settled by the railroad.
When Canada became a Confederation in 1867, the government promised to build a transcontinental system that would unite the provinces, from the Atlantic to the Pacific.
Less than 20 years later, in 1885, the longest railroad in the world was a reality: the Canadian Pacific Railway.
Today, Canada has almost 50,000 km (30,800 miles) of track to transport passengers and freight.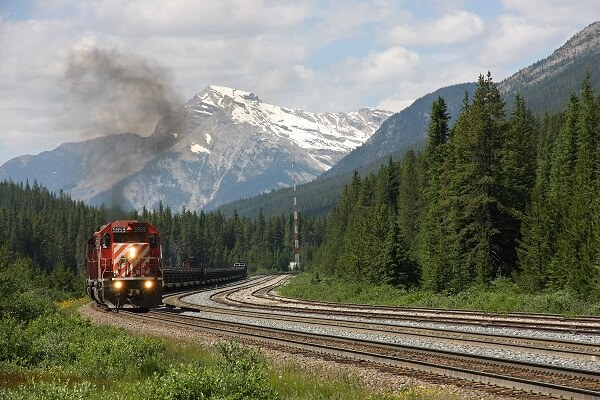 Freight transport along the Canadian Pacific Railway
---