Travel across Canada

Travel across Canada; many Canadians add it to their bucket list. 
A -once in a lifetime- cross Canada road trip; from the Wild Pacific to the North Atlantic Ocean, or vice versa.
It takes quite some effort to optimize your travel plans. This page is for those who do not have the time and energy to create a cross Canada road trip itinerary themselves.

The most scenic road trip across Canada

Road book to travel across Canada
the most scenic route to travel across Canada
The most scenic road trip across Canada

The designed route is -in my opinion-, the most scenic and interesting route to cross Canada by car.

If I would be in the position to join you on your trip, I would guide you exactly the same way as presented in this road trip itinerary. 

I created this specific cross Canada itinerary to refine my own cross Canada road trip (2012), and in order to pass my expertise as a driver/guide for travel tours in Canada.
Read more about my travel expertise.


The best of Canada

The selected route uncovers the best of Canada such as

rumbling waterfalls,

the majestic Rocky Mountains including world famous Lake Louise and Moraine Lake,

Alberta's badlands,

Saskatchewan's prairies and endless skies,

friendly Manitoba,

First Nations culture,

Ontario's Great Lakes including roaring Niagara Falls,

the Rideau heritage route and historical Kings Road, 

Capital city Ottawa, and

charming Quebec City

world's highest tidal fluctuations at the Bay of Fundy and much more...

Use the itinerary as a guideline for your road trip across Canada.
Interactive E-Road book to Travel across Canada

The interactive E-Road Book to Travel across Canada is a PDF file containing 27 travel days. Your trip starts in Vancouver, British Columbia and ends in Halifax, Nova Scotia. 
You can easily add extra destinations and days to extend your journey. 
This drive across Canada covers 7250 km/4500 mi.

Included in the 'Road Book to Travel across Canada'

The E-road book PDF includes:
105 pages

27 day itineraries, each day itinerary offers
- a selection of sights of interest
- one or more interactive maps
- driving directions

web links to
- related Provincial Parks & Parks Canada brochures or maps (inserted in the online map)
- tourism websites for local destinations

an accommodation schedule for planning your stays 
59 maps including links to their online version

relevant additional information such as
- Canadian federal taxes explained as well as taxes per province
- instructions how to use the road trip maps
- time zones
About the sights included in the road book

It is not my intention to include every single activity or sight along the route.
Presented sights and activities are carefully selected, based upon quality and feasibility within the day schedule. 


Within your road trip across Canada  there are opportunities to

go out on a hike – paddle – enjoy boat trips –view magnificent wildlife  – ride a gondola - visit  National Historic Sites, World Heritage Sites – explore Vancouver, Ottawa and Quebec City –immerse in hot springs – experience the history of fur trade – study petroforms – absorb native culture – witness world's biggest tidal fluctuations


Cellphone reach and internet along the proposed travel route

In general, a majority of accommodations offer WIFI.
Cell phone coverage is poor while travelling across Canada. 
I recommend bringing your mobile device (tablet) while travelling.

Internet connection makes it possible to use the interactive maps on your mobile device. The latter allows you to open added links and interactive maps. 
---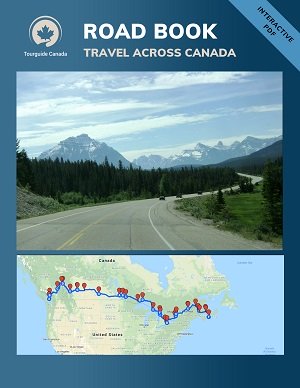 ---
Road Book Reviews
Road Book to Travel across Canada Reviews
Did you buy the Road Book to Travel across Canada? Share your review!

---
Cross Canada road trip movie
In October 2012, my husband and I drove from our hometown Clearwater, British Columbia to Halifax, Nova Scotia.
My friend Ken Matheson/KM Documentaries, helped me creating this short impression of our cross Canada road trip.


Note: The road book route deviates at several stretches from the road trip in the movie.
---