Road trip Calgary to Vancouver
A twelve-day, 1750 kilometres / 1100 miles, unique road trip from Calgary to Vancouver, western Canada. 
The designed route is the most scenic and interesting route to travel in western Canada.
If I'd be in the position to join you on your trip, I would guide you exactly the same way as presented in this self drive road trip itinerary.
On this page:
The best from Alberta and British Columbia

Included in the Road Book Calgary to Vancouver

Route Calgary to Vancouver
---
The best from Alberta and British Columbia

This E-roadbook simply includes the best from Alberta and British Columbia.

Starting 1100 m/3600 ft above sea level in Stampede City, Calgary, Alberta, the itinerary guides you along the majestic Rocky Mountains including one of world's most scenic roads, the Icefields Parkway.

You will be flabbergasted by turquoise coloured Lake Louise and Moraine Lake in Banff National Park. These are just a few of the beautiful mountain lakes to explore.

Discover the wildlife of Jasper National Park and gaze at Mount Robson, Rockies' highest mountain.

Visit the wonderful waterfalls of Wells Gray Park and continue your journey along scenic Duffey Lake Road that runs through the spectacular Coastal Mountain Range to Whistler Olympic Village.

Your road trip ends in at the Pacific Ocean in metropolis Vancouver, British Columbia.
---
Road Book Calgary to Vancouver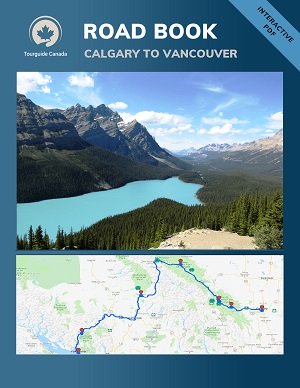 Road Book Preview
Interactive E-book in PDF format
104 pages
25 maps, including links to the online interactive maps
daily time schedules
services along the route
description of highlights
driving directions
attractions /activities, including contact details for outfitters 
links to relevant BC parks & Parks Canada brochures and maps
explanation federal and provincial taxes
additional information such as calling and internet plans, debit and credit cards use
accommodation schedule
links to websites to help plan your accommodation
---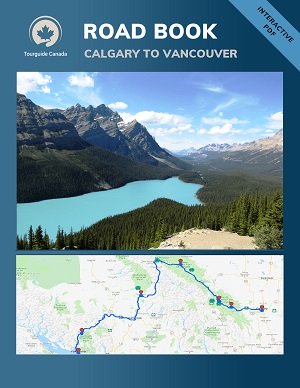 ---

Adjoining itinerary: Vancouver to Victoria, a 4 day round trip

---
Reviews
Reviews Road Book Calgary to Vancouver
Did you buy the Road Book to Travel across Canada? Share your review!
What other travellers have said about the Road Book Calgary to Vancouver
Click on the links below to read reviews from other travellers


---