Travel British Columbia Canada

map to explore Vancouver and Victoria, BC
Get the best out of your travel in British Columbia Canada. Find great road trip itineraries and city trips!

Unless travelling with a tour group, you'll need to find out what you'd like to see and do in Canada's most beautiful province.

Due to my extensive experience as a driver/guide for small tour groups, I created a few itineraries to help you to get the most out of your travel in British Columbia, Canada.

Free example: Vancouver Airport to Downtown Vancouver
What's included in each itinerary?

Get me to the various itineraries to travel British Columbia Canada
Important for your travel:
Check BC Wildfire warnings
Check BC Flood warnings 
Included in each road trip itinerary

Each itinerary to travel British Columbia Canada includes:
A proposed time schedule

Services along the route (gas stations, groceries, and restaurants)

The highlights in-depth

Maps showing the suggested travel route and the highlights/points of interest

A link to the online interactive map

Driving directions including approximate driving time (not included in the city trips)

Additional relevant information

A selection of the best attractions

Links to relevant brochures

Sources
---
Itineraries to travel British Columbia Canada

Free - single day - example itinerary 

click for FREE download
Download for FREE
Vancouver Int. Airport to downtown Vancouver
to check an example itinerary
---
Road Book Vancouver to Calgary

Redirect me to the Road Book Vancouver to Calgary (11 days)
---
Road Book Calgary to Vancouver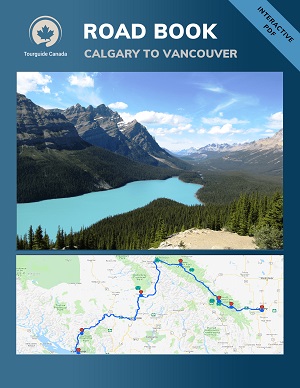 Redirect me to the Road Book Calgary to Vancouver (12 days)
---
Travel guide to Explore Vancouver and Victoria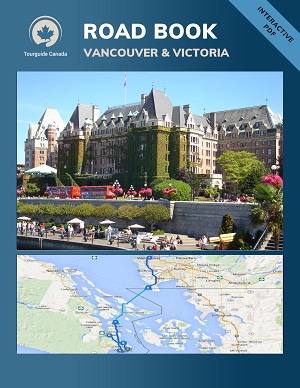 preview
-interactive guide in PDF format 
-66 content pages
-14 maps and links to the interactive maps
-daily time schedules
-detailed directions for pedal biking, walking and driving
-services along the routes
-description of highlights and attractions
-history Vancouver and Victoria
A four-day round trip:
- Explore Vancouver by pedal bike
- Cross the Georgia Strait by ferry
- Enjoy a scenic drive across the Saanich Peninsula
- Visit the world renowned Butchart Gardens, and
- Discover Victoria by foot
---
mobile use

Use your itineraries on your mobile device!
Reviews
Travel British Columbia Canada Reviews
Did you download the Free Example itinerary Vancouver airport to downtown Vancouver or, did you purchase the travel guide to explore Vancouver and Victoria? Share your review!