Sightseeing Banff, Alberta
(module 3)
This page presents suggestions for a day of sightseeing in Banff, Alberta.  Located in the heart of the Canadian Rockies, Banff has to be on top of your list when travelling in Canada.

As a tour guide, I visit Banff on a regular schedule. From my experiences, I point out all the highlights in and around Banff.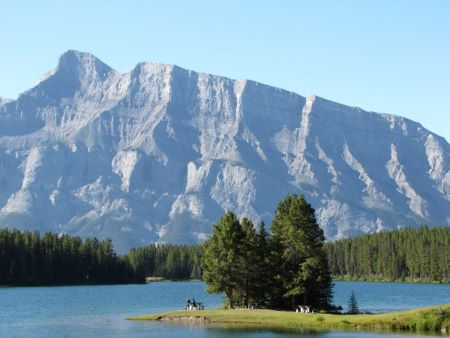 Related pages:

Banff is part of the Roadbook Calgary to Vancouver v.v.
Module 1: Destination Calgary

Module 2: En route: Calgary to Banff
Module 4: From Banff to Lake Louise, Alberta
Module 5: Yoho National Park
Module 6: Icefields Parkway
En route from Vancouver to Calgary? Get a tailored itinerary
sponsored links:

---
Map of Banff and vicinity

---
---

Description of the highlights in and around Banff

Lake Minnewanka scenic drive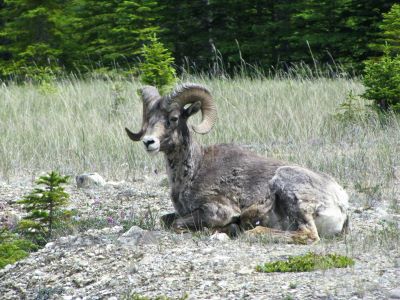 This 13 km/ 8 mi scenic loop through the Bow Valley –a wildlife corridor-, offers some impressive views of several picturesque lakes and mountain peaks. Keep your eyes open for Bighorn sheep.
Two Jack Lake is my favourite spot for a picnic. On a sunny day you'll have a spectacular view of massive Mount Rundle.
Lake Minnewanka means 'water of the spirits'. Native people of the area –the Stoneys- heard voices whenever they travelled in the neighbourhood of the lake.  Although they couldn't see anything that made sounds, one day a strange creature rose out of the water. It seemed to be half fish and half human being....


Hoodoos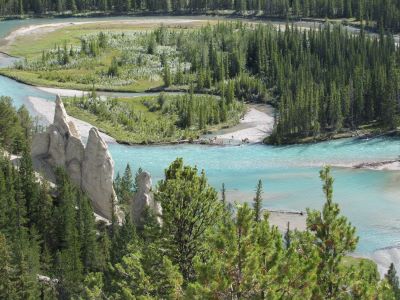 Hoodoos are pillars, formed by erosion.  They consist of sedimentary sandstone rock. Wind and water erosion shape these structures. Softer parts crumble down and harder parts stay behind like pillars.

From the Hoodoo viewpoint, you'll have a splendid view of the Bow River and Mount Rundle (2948 m/ 9672 ft). In the distance, you're able to see the Gondola and the Banff Spring Hotel.


Surprise corner
Go up the stairs for a splendid view of the Banff Spring Hotel.
Bow Falls viewpoint
A lovely viewpoint of the 9 m/30 ft. high, 30 m/100 ft. wide, Bow falls.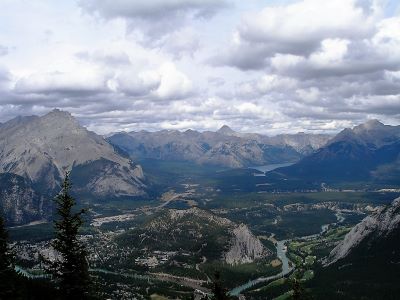 Sightseeing Banff from above

On a clear or lightly clouded day, make sure to ride the Gondola! The fully enclosed 4-passenger cabin lifts you to an incredible view at the summit of Mount Sulphur (2,281 m/ 7,486 ft).  On a bright day, you'll have a SUPERB 360˚ view of 6 mountain ranges.
Visit the Banff Gondola website
Upper Hot Springs
The breathtaking setting of these commercially developed hot springs is the perfect facility to ease your sore muscles after a strenuous hike or after a day of skiing. The temperature for this outdoor hot pool is set to 37-40˚C / 98-104 ˚F. From the pool, you have an awesome view of –there he is again- Mount Rundle.
Visit the Banff Upper Hot Springs website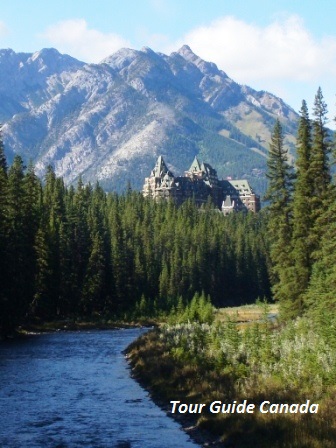 Cave and Basin National Historic Site

It is 1880 when the Canadian Pacific Railway starts building it's tracks through the Bow Valley. In 1883, three railway workers discover hot springs in a cave at the base of Sulphur Mountain.
In 1885 Canadian government protects an area of 26 km2 (16 mi2) around the hot spring and starts promoting the area as an international resort, trying to collect money for further development of the railway. In 1887 another 673 km2 (418 mi2) land is added to protection and called 'Rocky Mountain Park'. Canada's National Park system is born!

Visit the Cave and Basin website
Fenland Trail
I like to go here with travellers who just arrived in Calgary (usually after a long flight).
It's a beautiful, diverse, short hike (more like a stroll) to get introduced to the Bow Valley wildlife corridor.
Visit Parks Canada Banff area trails
---
Day itinerary sample for sightseeing Banff, Alberta

8.30             am    leave your accommodation
8.45 - 9.15    am    Lake Minnewanka scenic drive
9.15 –10.45   am    Tunnel Mountain Drive
                              - viewpoint Hoodoos
                              - Surprise corner
                              - Bow Falls
11 - 12.30             Fenland Trail
12.30 - 2       pm    lunch
2  – 5            pm    Banff Gondola (awesome!) or
                           Upper Hot Springs and Cave Basin (National Historic Site)
---
How to Use the Road Trip Map
Layers
The map has 3 layers. 
1.    Destination Calgary: my favourite (and free!) highlights within Calgary.
2.    Sightseeing Banff: a pick of my best-loved activities, and sightseeing in Banff and near surroundings.
3.    En route: Calgary to Banff: sights adjacent to Hwy1 west, between Calgary and Banff.

Check or UN-check the box of each layer to hide or show the specific highlights that fit your style.

Place marks and icons
Points of interest are place-marked at the most accurate position in the map. The icon visualizes the nature of the site.

Zoom   
Zoom in to enlarge a region. The zoom in/out icon ( + -)  is located at the right bottom.

Hold and drag
Hold and drag to move around on the map.

Site info
Click on a specific site to read the description.

Directions
Find directions from any location to a specific site, by clicking the arrow at the bottom of the description box.

Print the map
Use 'Printscreen' on your keyboard. A picture of the map is now on your clipboard.
Open your image editing program (like Paint) and use 'Paste' to insert the screen picture.
Save it.
Print the map and take it with you as a reference during your travel in Canada.



---
Home

›
Road Trip Ideas
› Sightseeing Banff
---
Back to TOP of page
---