Road trip Calgary to Banff

This page presents the sights along the route from Calgary to Banff, Alberta.

As a tour guide, I've driven this stretch many times.  Most tours start or end at Calgary International Airport, a gateway to the breathtaking Canadian Rocky Mountains...

Road Map Calgary to Banff

When you're starting or ending your trip in Calgary, you might find it helpful to check out the
related pages:
Module 1: Destination Calgary

Module 3: Sightseeing Banff

Module 4: From Banff to Lake Louise, Alberta

Module 5: Yoho National Park

Module 6: Best road trip: Icefields Parkway
Road Map Calgary to Banff
---

Services along the route from Calgary to Banff

Gas Stations
Calgary, Canmore, and Banff

Shopping / groceries
Calgary *, Canmore, and Banff

* groceries are lower-priced in Calgary

Restaurants
Calgary, Canmore, and Banff

Accommodation
Calgary, Canmore *, and Banff

* Canmore is a bit sweeter for your purse

Campgrounds
Plenty of choice in Calgary, Canmore, and Banff

Cell phone reach
Unreliable along this route
---
---

Route information from Calgary to Banff, Alberta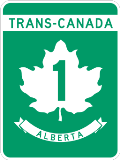 highway sign

Calgary is located along Hwy 1, the Trans-Canada Hwy, recognized by its white on green -maple leaf- route signs. Hwy 1 runs coast to coast, from St John's in Newfoundland 7400 km/4600 mi, west to Victoria on Vancouver Island, British Columbia.
Olympic Park
When leaving the city of Calgary, you'll see the 1988 Olympic Park on your left hand site. The ski jump and the bob sleigh tracks are clearly visible.
Native land: the Morley Reserve
Along the route between Calgary and Banff, you'll pass the Morley Reserve, inhabited by the 'Chiniki' band of the' Nakoda' or 'Stoney' Nation. 
Early white explorers gave the latter name to the local native people as they used fire-heated rocks to cook their food in rawhide bowls.

Father Morley introduced gospel music to the area. He wrote: 'did we come here to enrich ourselves in the things of this world? No. We were sent to enrich the Natives and comfort the hearts of the long oppressed'.
Chinook Country
Chinook is native language for 'snow eater', referring to the dry warm wind that regularly blows east of the Rockies.
When southwestern moist wind is pushed over the Rocky Mountains, it drops down behind this mountain range.  Due to the difference in pressure by falling down, the wind warms up and becomes dry.  As a result, the wind 'eats' the snow away.
Foothills
The foothills are the lower hills, just east of the Rocky Mountains. Formed about 55 million years ago, the foothills are relatively young. These hills used to be the floor of an inner see. They mostly consist of limestone.
Exshaw
The Exshaw plant produces a wide range of quicklime and limestone products.
Canmore
Canmore hosted the Nordic events of the 1988 Winter Olympics. 

Located only 7 km /4 mi east of Banff National Park entrance, it is a good (read 'cheaper') alternative for accommodation. 

Canmore is located within the Bow Valley, an important wildlife corridor for animals such as deer, elk, moose, bears, wolves and cougars.

The 'Three Sisters' - individually known as the
'Big Sister' - 'Faith' (2,936 m/9,632 ft),

'Middle Sister' - 'Charity' (2,769 m/9,084 ft), and

'Little Sister' - 'Hope' (2,694 m/8,840 ft) -
are watching over this environmentally friendly town.
---
Day Itinerary Calgary to Banff
When you like to visit Calgary and Banff in 1 day, I recommend to stick to the below highlights in Calgary and Banff.

Timing
8.30              am     leave hotel
9.00  -   9.20  am     viewpoint downtown Calgary  (you need app. a full hour for the tower)
9.30  -  10.00 am     Stephen Avenue
10.15 - 11.00  am     buy some groceries for a picnic
11.15 - 12.45           drive Hwy 1 west,  Calgary to Banff
1.00  –  1.45   pm     picnic at two Jack Lake
1.45  –  3.30   pm     sightseeing Banff: Hoodoos viewpoint + Surprise corner + Bow falls    
3.30  –  5.30   pm     Gondola, Fenland trail, or Upper Hot Springs
---
How to Use the Road Map

Use the map within this website or access the road map in a separate full screen window (recommended) by clicking the [ ] in the upper right corner.

Layers
The map has 3 layers. 
Destination Calgary: my favourite (and free!) highlights within Calgary.

Sightseeing Banff: a selection of my best-loved activities and sightseeing in Banff and near surroundings.
En route: Calgary to Banff: sights along Hwy1 west, between Calgary and Banff.

Check or uncheck the box of each layer to hide or show the specific highlights that fit your style.

Place marks and icons
Points of interest are place-marked at the most accurate position in the map. The icon visualizes the nature of the site.

Zoom   
Zoom in to enlarge a region.
The zoom in/out icon ( + -)  is located at the left bottom.

Hold and drag
Hold and drag to move around on the map.

Site info
Click on a specific site to read the description.

Directions
Find directions from any location to a specific site, by clicking the arrow at the bottom of the description box.

Print the map
Use 'Printscreen' on your keyboard. A picture of the map is now on your clipboard.
Open your image editing program (like Paint) and 'paste' to insert the screen picture.
Save it.
Print the map and take it with you as a reference during your travel in Canada.