Road Trip Canada

Planning a road trip in Canada? Travel this great country by car or RV!

As a tour guide, I visit many popular destinations in Canada.  Having seen so many wonderful parts of this country, I love to share these unique and best road trip destinations with you.

Discover multiple day road trips  
Itinerary samples and road trip ideas Canada
---
My favourite road trip in Canada


The Icefields Parkway,

Alberta




Nested within a Unesco World Heritage Site –the Canadian Rocky Mountain Parks-, The Icefields Parkway is definitely one of the most beautiful roads of the world.
Personally, I've never been on a more scenic road than this one.


Scenery
Endless mountain chains, wild rivers, turquoise lakes, 7 icefields, many more glaciers, and a good chance of  spotting wildlife, such as grizzlies and black bears, elk, mountain goat, and bighorn sheep, make the Icefields Parkway my favourite Canadian road trip destination ever.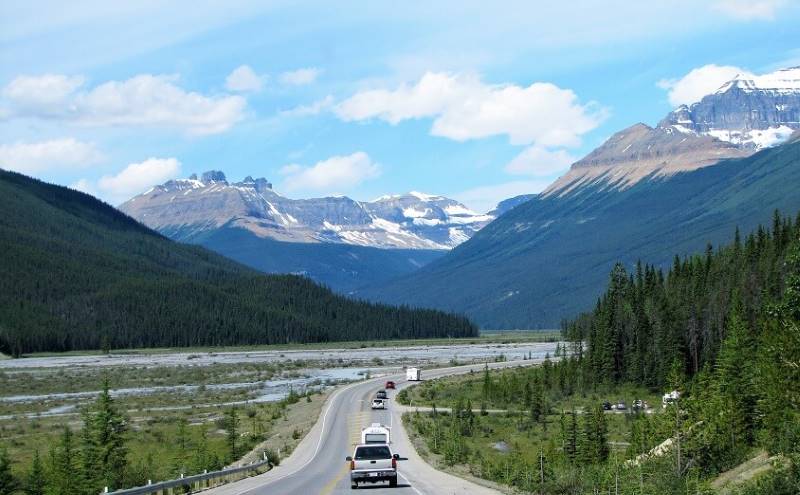 The Icefields Parkway is one of the most scenic roads in the world!
Good to know, and interesting facts about the Icefields Parkway

Gems along the Icefields Parkway

Many breathtaking viewpoints are located along the Icefields Parkway.  All worth stopping for...however it is impossible to hit the brakes at all of these when you plan to drive the Icefield Parkway in one day. 

Start your road trip in either Jasper or Lake Louise. Make sure you get out of your vehicle at:

   Peyto Lake
   Coleman Creek: an awesome spot to enjoy a picnic
   Parker Ridge Trail (2.5 hours return, 250 metres/820 feet elevation gain)
   Athabasca Glacier
   Sunwapta Falls or Athabasca Falls

Things to do around:
The Icefields Parkway is included in the Road Trip Calgary to Vancouver

The Icefields Parkway is included in the Road Trip Vancouver to Calgary
---
Another great Canadian Road Trip
The Cabot Trail, Cape Breton,
Nova Scotia
Another exceptional and breathtaking road trip destination in Canada is the Cabot Trail. This east coast road trip is one of the finest road trips I've enjoyed in Canada.
When I and my other half drove the Cabot Trail half of October, we experienced beautiful fall foliage.

The Cabot trail hugs the edge of Cape Breton Island, NS.

Scenery
Acadian villages, spectacular highlands, old growth forest, wild creeks, and beautiful ocean vistas characterize the Cabot Trail. The great Atlantic Ocean hugs the rolling hills of Cape Breton.

Great hiking trails and numerous gorgeous lookouts are worth the extra stop.

Cape Breton Island is home to a variety of wildlife such as moose, black bears, coyotes, and several whale species.

Good to know and interesting facts about the Cabot Trail

The scenic Cabot Trail winds along the coast of Cape Breton, Nova Scotia
---
Road Trip Canada # 3
Pacific Rim Highway (Hwy 4 West), Vancouver Island, BC

The Pacific Rim Hwy is one of my favourite Canadian road trips. It is the only (mostly 2-lane) road leading to Tofino and Ucluelet, located on the west coast of Vancouver Island.  This stretch is big fun for motorcycles lovers and for automobilists as it winds through the Vancouver Island Mountains.

Scenery
A section of the road cuts through old growth temperate rainforest of giant Douglas fir, hemlock, and western red cedar.  Further west the road gets very windy and narrow, crossing several creeks. 

This road trip offers breathtaking views of surrounding mountains, lakes and rivers.

You might even spot black bears trying to catch salmon or eating berries along the roadside.
All grounds to list this stretch of highway as one of the coolest Canadian road trips.
Good to know and interesting facts about the Pacific Rim Highway

Gems along the Pacific Rim Highway

Your road trip starts in Parksville, BC. Make sure you get out of your vehicle at:

Little Qualicum Falls Provincial Park: enjoy a picnic and a short hike.
Cameron Lake: great for swimming.
MacMillan Provincial Park: awe at huge, big, and up to 800 years old Douglas firs.
Alberni harbour Quay in Port Alberni : sip a fresh Cappucino or visit the Saturday morning Farmers' Market.
Sproat Lake petroglyphs:  gaze at thousand+ years old petroglyphs on the shores of Sproat Lake.
From the lower campground parking lot (see map), an easy 600 metres walk (with picnic tables just of the start) leads to a floating viewing platform.
Kennedy River: stretch your legs and refresh yourself at the rocky shores of the Kennedy River. 
Pacific Rim Visitor Centre: provides excellent free information and maps of the area.


---
Resources
Parks Canada
Wikipedia 
The Cabot Trail

---
Read more:

Uncover road trip ideas and travel itineraries

Find popular destinations in Canada

Where to Travel in Canada. Discover my favourite destinations in Canada.

Go wild! Discover free camping in Canada.

Average road conditions and the weather in Canada. Find the best season to travel Canada.