Map of Canada

The travel map of Canada shows several scenic routes to help plan your travel vacation in Canada.

Each of the itinerary samples shows the most scenic route for a specific area.
I personally travelled all the suggested routes. 


Canadian Road Trip Ideas

Check this map to discover the different road trip ideas.

Description of the various road trips
---

1. Travel across Canada: Coast to Coast

A bucket list trip for every Canadian! 
Behold British Columbia's Pacific Ocean, discover rumbling waterfalls, admire the majestic Rocky Mountains with turquoise coloured lakes, cruise Alberta's badlands, and gaze at Saskatchewan's prairies with its endless skies. Meet Manitoba's friendly people, be amazed by Ontario's Great Lakes including roaring Niagara Falls, drive the Rideau Heritage route and Historical Kings Road, visit capital city Ottawa, and charming Quebec City within Canada's New France. Experience the tidal fluctuations of the Bay of Fundy and much more...

Best time of year
Summer-Fall

Duration
26+ days

Travel distance
7250 km/4500 mi

Activities and such
go out on a hike – paddle – enjoy boat trips –view magnificent wildlife  – ride a gondola - visit  National Historic Sites, World Heritage Sites – explore Vancouver, Ottawa and Quebec City –immerse in hot springs – experience the history of fur trade – study petroforms – absorb native culture – witness world's biggest tidal fluctuations

The map of Canada illustrates this road trip in the layer -Canada Coast to Coast-, and layer - directions Vancouver to Halifax.
Visit the Travel across Canada page to uncover the best of Canada!


Discover travel destinations in eastern Canada.
---

2. Vancouver and Victoria: a four-day round trip

Explore Vancouver by pedal bike, cross the Georgia Strait by ferry. Enjoy a scenic drive across the Saanich Peninsula, Vancouver Island. Visit the world renowned Butchart Gardens, discover Victoria by foot.
Best time of year
Spring-summer-fall

Duration
4-day round trip
Travel distance by car

185 km/115 mi

Activities and such
pedal biking - sightseeing - ferry travel - scenic drives - mountain viewpoint - city walk - botanical gardens

Discover Vancouver and Victoria

---

3. Vancouver to Calgary: from Sea to Sky

Starting at the Pacific Ocean in Vancouver, British Columbia, the itinerary guides you along the scenic Sea to Sky Highway, through the spectacular Coastal Mountain Range, and continues along BC's Interior and the Cariboo Mountains, famous for its waterfalls.

You will be flabbergasted by Alberta's Rocky Mountains, including one of world's most scenic roads, The Icefields Parkway.
Turquoise coloured Lake Louise and Moraine Lake in Banff National Park are just a few of the beautiful mountain lakes to explore.

Your road trip ends in Stampede City Calgary, Alberta, located at 1100 m/3600 ft above sea level.


Best time of year
Late June - half of September

Duration
11 days

Travel distance
1750 km / 1100 miles

Activities and such
pedal biking - rafting - horseback riding - hiking - boat rides - canoeing - gondola rides - wildlife watching - river safari - hot springs - Canada's National parks

Redirect me to the road trip Vancouver to Calgary
Check Travel British Columbia Canada for road trip maps and itinerary samples that fit into the Vancouver to Calgary road trip.
---
4. Calgary to Vancouver: from Sky to Sea
This route is the same as route #3 Vancouver to Calgary however, in reverse order plus an additional day in Calgary.
Check out the Road Book Calgary to Vancouver
---

5.  Ontario and Quebec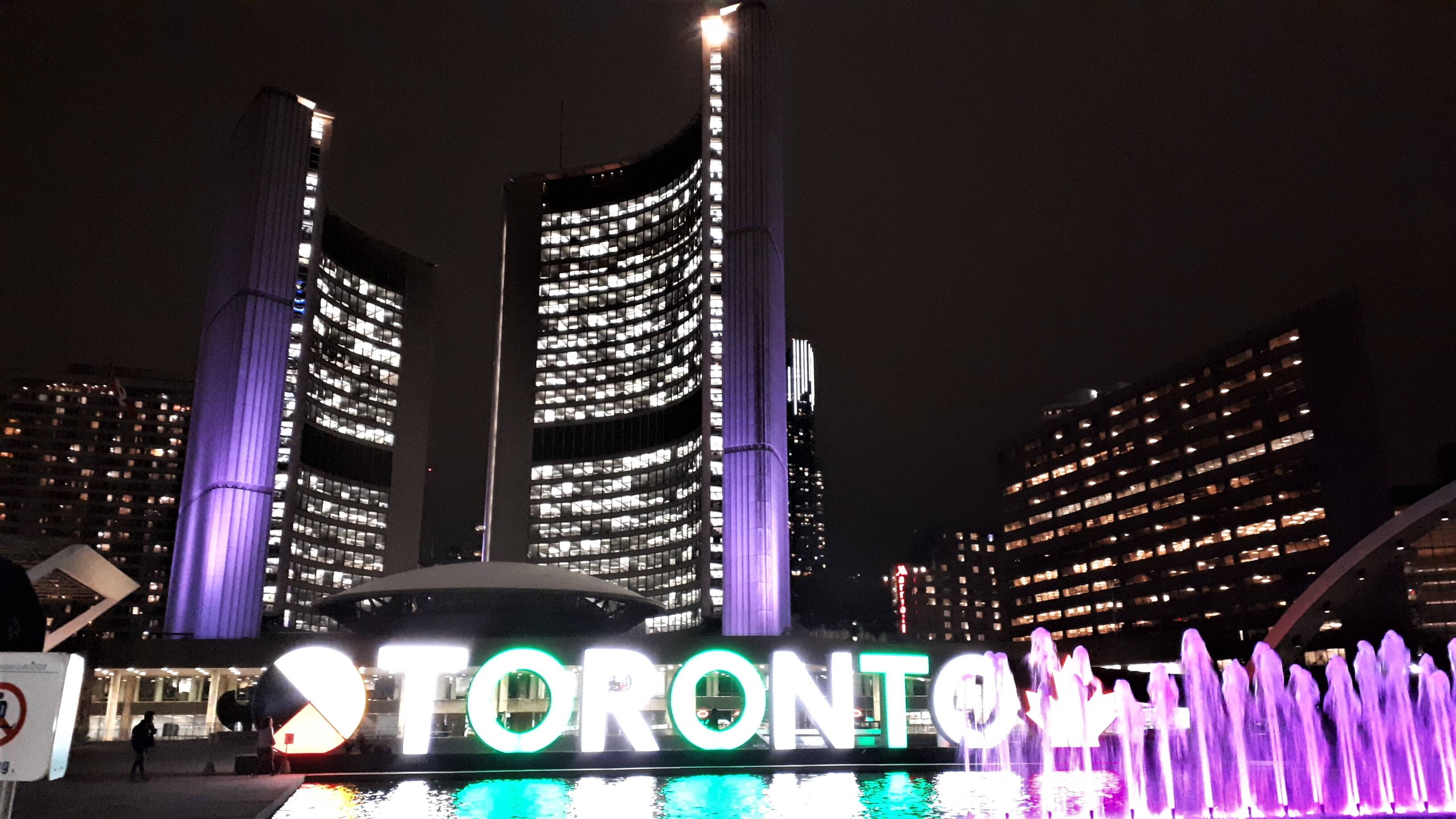 This itinerary covers the best of Ontario and Quebec

You will travel huge distances, and therefore you will see a big part -and most of the highlights- of both Ontario as Quebec. Experience a taste of everything; wildlife such as bears and whales, waterfalls, historic roads and cities, cycling, hiking, fishing and canoeing within several provincial and national parks.

Best time of year
half of August to early October

Duriation
21 days

Travel distance
3100 km/1925 mi. 
Activities and such
Within the itinerary sample, there are opportunities for hiking – canoeing – biking - wildlife viewing such as bear-, whale-, moose- and beaver watching, visiting National Historic Sites  – exploring Toronto, Quebec City and capital city Ottawa and experiencing native culture
Go to Road Trip Ontario and Quebec

---
Itinerary Samples and Road Trip Maps for British Columbia and Alberta

These pages offer single day itinerary samples:
Road trip itineraries for travel in British Columbia, Canada
Destination Calgary

Road trip Calgary to Banff

Sightseeing Banff

From Banff to Lake Louise, Alberta

Visit Yoho National Park, British Columbia
---

How to Use the Road Trip Map of Canada

Layers

The map of Canada contains 5 layers that cover different road trips in Canada.
Check or uncheck layers
Check or uncheck the box of each layer to hide or show each road trip. 
To get a single view of each road trip, scroll down the window to uncheck the boxes of the other road trips in Canada.

Zoom   
Zoom in to enlarge a region. The zoom in/out icon is located in the left bottom.

Hold and drag
Hold and drag to move around on the map.

Site info
Click on a specific icon to read a basic description of the destination.

---
Home

›
Where to Go
› Map of Canada
---
Back to TOP
---