Canadian Road Trips

Explore scenic Canadian road trips. Discover the best road trip ideas for your travel in Canada. 
Great road conditions, beautiful vistas, and huge distances make Canada my favourite country to discover by car or motorbike.
As a tour guide, I travel many marvellous Canadian routes. Having seen so many wonderful parts of this country, I love to share my favourite road trips with you.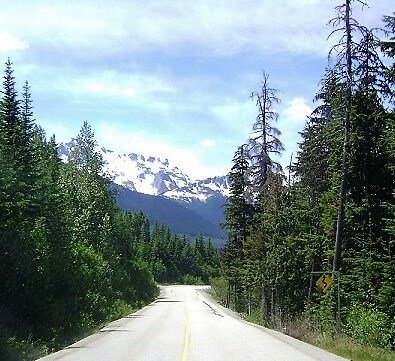 Scenic Duffey Lake Rd
Discover a travel map of Canada

Find more road trip ideas for Canada

You can do other travellers a favour as well by sharing your most popular drive in Canada! 

---
One of the Best Canadian Road Trips



Duffey Lake Road, British Columbia



Duffey Lake Road is one of my favourite Canadian road trips. This mostly two-lane highway winds through the Coastal Mountains of British Columbia.
This very scenic and less travelled road trip in British Columbia is big fun for motorcycles lovers as well as for automobilists.

Scenery
Steep mountains, wild rivers, turquoise lakes,  glaciers, and a good chance of  spotting wildlife, such as black bears, mule deer, hoary marmots, and bighorn sheep, make Duffey Lake Road  one of my mostly loved Canadian road trips.



Interesting facts about Duffey Lake Road

Duffey Lake Road stretches 104 km/65 miles, from Pemberton to Lillooet, British Columbia.
Little commercial traffic follow this route.
The highest part of the route is Cayoos pass at 1275 metres / 4183 feet.
The speed limit on Duffey lake Road varies between 30 km/hour to 80 km/hour (18.5 - 50 miles/hour).
The road has been paved in 1991 and is part of highway 99.

Follow this route northbound as there are some very tight switchbacks that you will appreciate going uphill instead of downhill.
For safe travel, drive Duffey Lake Road during the summer months only.
Allow yourself at least 2 hours to drive Duffey Lake Road from Pemberton to Lillooet, BC. 

There is no gas station along the route between Pemberton and Lillooet.

Cell phone coverage is unreliable when out on the Duffey Lake Road.  
Gems along Duffey lake Road
Start this Canadian road trip at Pemberton, BC.
Make sure you get out of your vehicle at:
Joffre Lakes:  admire the turquoise colour of the glacial Joffre Lakes. Lower Joffre Lake is a 5 minutes stroll through beautiful old growth forest.
Duffey Lake: enjoy the breathtaking view of the Coastal Mountains at Duffey Lake.
Seton Lake:  great for a picnic and a swim.
Old Bridge in Lillooet: check the Osprey nest on top of the Old Bridge above the Fraser River in Lillooet.
---
Another breathtaking Canadian Road Trip



The Glacier Highway


Another exceptional and breathtaking Canadian road trip is Highway BC-37A in Northern British Columbia.  


Scenery
The scenery along the Glacier Highway is extra-ordinary. High rugged mountain peaks draped with rumbling waterfalls and jumbling glaciers surround this windy two lane-road.  The wild roaring Bear River eats its banks after every heavy rainfall.  In the middle of summer 2011, it took a bridge and part of the highway as dessert.


Interesting facts about the Glacier Highway (BC-37A)

The Glacier Highway stretches 61 km/ 40 miles, between Meziadin Junction (along Hwy 37) and Stewart, BC.

Little commercial traffic follows this route.
There is no cell phone coverage along this route.
Allow yourself 1 hour for this road trip, excluding any stops.
Check road conditions before you turn onto the Cassiar Highway (BC-37) at Kitwanga (located on Hwy 16, 213 km/ 132 miles south of Stewart).

There are no services, no gas, no nothing along this road. Gas is available in Stewart, Kitwanga (213 km/ 132 miles south of Stewart), and in Iskut (309 km / 192 miles north of Stewart).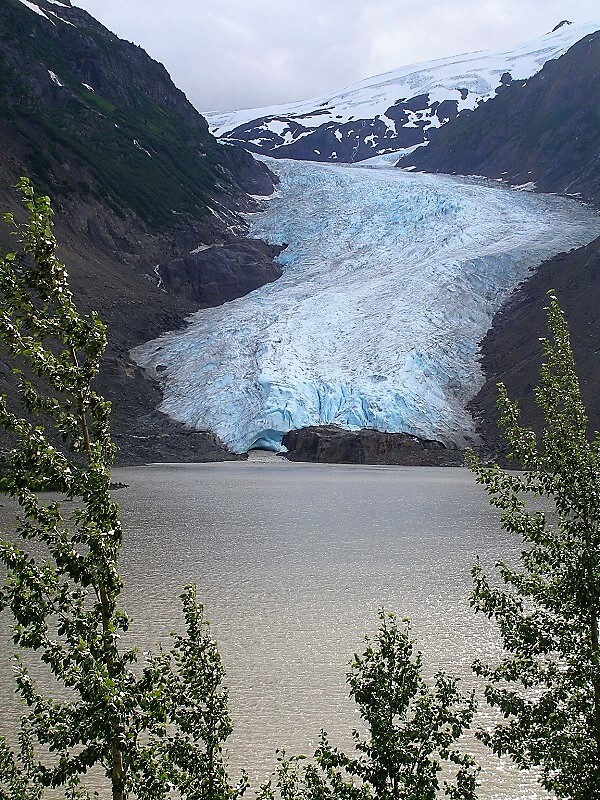 the Great Bear Glacier along BC-37A
Gems along the Glacier Highway

Spawning salmon at Hannah Creek: located about 3.5 km/2.2 miles south of Meziadin Junction. Sockeye salmon spawn here during summer and early fall.  Watch out for bears feasting on the salmon; don't surprise bears (make noise) and stay on the bridge for you own safety. Read more about bear watching etiquette.


Great Bear Glacier: located halfway the Glacier Highway lays the impressive Great Bear Glacier. This glacier ends in a glacial lake. The road is built over the moraine.


Bears: many black bears as well as grizzlies are spotted along this route. Drive with care!


The paved part of the road leads through Stewart, BC and ends at the Canadian border.  From here follow the unpaved Alaska's Salmon River Road to watch bears fishing for wild salmon at Fish Creek, AK.

Continue the Salmon River Road for another 30 km to be stunned by the raving beauty of the Salmon Glacier.

---

Favourite Road Trips in Canada # 3

Yellowhead Highway  (Hwy 16) Prince Rupert – Terrace


Prince Rupert's harbour is the most western terminus of the Yellowhead Highway.  This stretch of Hwy 16 runs parallel to the train tracks. On the other side of the road lays the Skeena River (aboriginal language for 'river of mist').  This part of Highway 16 cuts right through the Coastal Mountains. 

Scenery
Green mountain slopes draped with roaring waterfalls embrace the Skeena valley.  Along the route, several glacial rivers enter the muddy Skeena estuary. Above the river, tattered mist enchants the scenery.

Interesting facts about this part of the Yellowhead Highway (BC-16)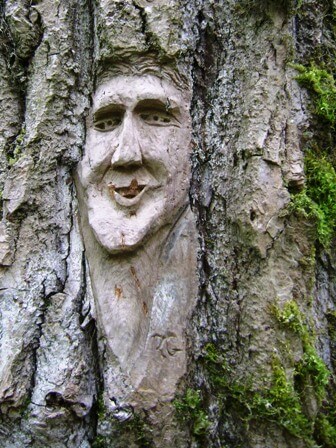 wood carving at Ferry Island
144 km/89 miles of 2-lane pavement connects Terrace with Prince Rupert.

Allow yourself 2 hours driving time excluding any stops. 

There is no gas station along this route. Fuel up in Terrace or Prince Rupert.

Cell phone coverage is unreliable when out on this part of the Yellowhead Highway.

Prince Rupert is the 'gateway to Alaska'.  From Prince Rupert ferries, cruise ships and cargo ships sail to this most northern state of the USA.  

The ferry to and from Vancouver Island, departs from and lands in Prince Rupert. 

Prince Rupert's nickname is 'City of Rainbows'. The town receives  approximately 2600 mm /102 inches precipitation per year.

The Canadian National Railway – CN- owns the tracks along the route. This is Canada's 2nd transcontinental railway (the 1st is the Canadian Pacific Railway –CP). 

The area around Terrace is well known for its white black bears, the so-called Kermode bear. Read more about white black bears.


Gems along the Yellowhead Highway between Terrace and Prince Rupert.


A - Start with a stroll over Ferry Island. Follow the road just past the campground. Park your vehicle at the washroom building. From here, start walking the 3km/1.7 miles walking trail. A local artist carved 55 works of art into the bark of the trees. 

B - Exchamsiks River Provincial Park. Admire old growth Sitka spuce rain-forest by walking the short interpretive nature trail. The trail starts at the picnic area just north of the Highway and immediately west of the Exchamsiks River.
C -Prince Rupert
---
Read more:

Do other travellers a favour and share your most popular drive in Canada! 

Explore more road trip ideas for Canada

Discover a map of Canada

Find  popular destinations in Canada
Let me create a tailored itinerary for your trip.